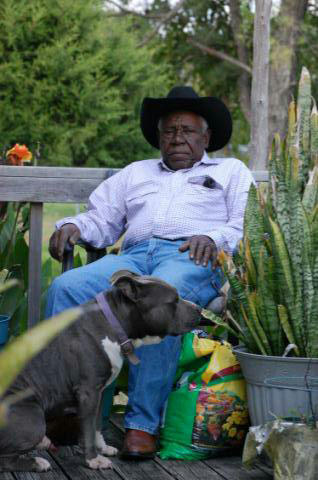 The Angelic Hosts came for Mr. William (Pete) Kirven at his residence in Coolidge, Texas among loving family and devoted friends.
Viewing was held Friday, November 10, 2011 beginning at 1:00 p.m. in the Moore's Angelic Chapel.  A Prayer Service was held Friday from 6:00 p.m. – 7:00 p.m. in the chapel with the family present.
Funeral services were held Saturday, November 11, 2017 at 11:00 a.m. in the First Baptist Church, 500 East Carthage Street, Mexia, Texas, with Pastor Henry Chambers, Jr. officiating.  Interment followed in the Sandy Creek Cemetery, Coolidge, Texas with Military Funeral Honors.
Moore's Angelic Funeral Home of Teague, Texas is serving the Kirven Family.
William (Pete) Kirven was the first of 13 children born to Moses Kirven and Vicy Beachurn Kirven. He   was born September 22, 1943 in Limestone County, Coolidge, Texas.
Pete attended Oak Hill, Echols, Woodland, and Coolidge School during his school years. He furthered his education at Prairie View A&M University, Prairie View Texas. He earned a Bachelor's degree in Animal Science. After returning from active duty from the U.S. Army, he attended Paul Quinn College and earned a Certification in Social Work. He went further to achieve a Master's degree in Social Work from Baylor University, Waco, Texas.
He confessed his faith in Christ at an early age. He joined Sandy Grove Primitive Baptist Church, Sandy Community, Coolidge, Texas.  He   met and married Bennie "Taylor" Kirven on January 18, 1969. To this union, two children were born:  Daughter, Jeneanne Kirven of Bryan College Station, Texas and son, Michael William Kirven of Coolidge, Texas.
Pete was drafted into the U.S. Army and served from 1969-1971 as an E5. He was a medic. He was stationed in Tacoma, Washington as a Lab Tech at Maghany General Hospital. He received an honorable discharge in 1971. After his service in the military he began a career at the Mexia State School. He later became a truck driver and drove for 15 years. Throughout his career, he continued his love for ranching and doing community service.
He was a Board member of the Coolidge Independent School District for several years.
In January 2007, Pete became known as "Commissioner Kirven."  He was the first African American elected as Commissioner of Limestone County Precinct 2.    Commissioner Kirven had the pleasure of serving his constituents for two consecutive terms (2007-2014).
Pete Kirven  was an  active board member of the Navasota Valley Electric Co-op, Prairie Hill Water Co-op., President of Sandy Creek  Cemetery Association for twenty-five (25) years, and President of The Limestone County Nineteenth of June Organization, located at Booker T. Washington  Park (Comanche Crossing), Mexia, Texas. He was also a member of the Young Farmers of America.
Pete had a great love for leather and wood crafting, ranching and going to rodeos.
He is preceded in death by his father Moses Kirven, brother Earnest Kirven and devoted brother-in-law Shelton Heggins, Ernest Acres and Fred Daily,  and Mother-in-law, Geneva Cornish-Taylor.
He leaves to cherish his memory wife, Bennie M. Kirven, of 49 years; one daughter, Jeneanne M. Kirven; one son, Michael  William Kirven and daughter-in-law Quanza Brackens Kirven; and Grandchildren Ionica, Zumique  and Symii Love all of Coolidge Texas; his Mother Mrs. Vicy Kirven  of Sandy Community, Coolidge, Texas; Five sisters, LaVern Kirven Jackson (Bobby), DeEvelyn  Kirven Heggins, Madeline  Kirven-Gamble (Donald) of Dallas, Jacqueline Kirven Gee (Winford) of Mexia, Sharon D. Kirven Henley (Rex) of Waco; six brothers, Otis Kirven (Pearlie) of Dallas, Floyd Kirven and Elvin of Sandy, Felix Kirven (Ruth) of Virginia Beach, Virginia, Stelvin Kirven (Regina) of Sunnyvale, Texas, James Kirven (Gloria) of Mexia, Texas; Sister-in-laws:  Eddie Taylor, Spring Taylor (LC), Vanessa Moseley, all of Mt. Calm, Texas, Sandra Daily of West, Regina Acres of Waco, Sherrie Lewis of Mexia; two brothers-in-law:  Carl Taylor (Gail) of Los Angeles, California, and George Taylor of Houston; and a host of aunts, nieces, and friends.
Visit mooresangelicfuneralhome.com to sign the guest book and light a candle.