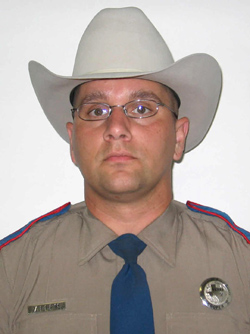 "Our thoughts and prayers are with the family of Texas State Trooper Damon Allen who lost his life in the line of duty," says DA Evans.
On Friday afternoon, November 24th, members of the community gathered along I-45 and Highway 84 to salute Trooper Allen as his body was transported from Dallas to Bower's Funeral Home in Teague, Texas.
This transport was given an escort of nearly fifty first responder vehicles, including DPS Officers, Sheriff's Deputies, area Police Departments and Fire Departments.
"Our DPS family is heartbroken after one of Texas' finest law enforcement officers was killed in the line of duty," said DPS Director Steven McCraw. "Texas Highway Patrol Trooper Damon Allen was a loving husband and father of three, and we ask for your prayers for his entire family and his many friends and colleagues during the difficult days ahead. Trooper Allen's dedication to duty, and his bravery and selfless sacrifice on this Thanksgiving Day, will never be forgotten."
Trooper Allen was also saluted by crowds along Highway 84 on the loop in Teague as the convoy arrived at the funeral home.


---
Community Prayer Gathering
Citizens of Freestone County and the surrounding areas gathered at the Freestone County Courthouse at 6:00 p.m. Sunday evening, November 26th, for a memorial honoring Trooper Damon Allen.
Area pastors offered up prayers for Trooper Allen, his family, and for first responders.
Fellow DPS Troopers and Freestone County Sheriff Jeremy Shipley spoke of their love and respect for their fallen brother-in-arms with tears in their eyes.
Trooper Allen's patrol unit was on scene for people to leave stuffed animals, letters, flowers, and other items of remembrance and respect.
A family friend of the Allen's thanked everyone for their love and support, saying "We aren't even from this town or county, being from Mexia. It's just amazing how this whole community came together so quickly to show the family so much love and support. We can't thank you enough."
News crews from Waco and Dallas television stations were on site to cover this beautiful, yet very emotional memorial that lasted more than an hour.






---
Memorial Funds
Two memorial funds have been set up to assist the Allen family with expenses. 100% of the funds will be given to Trooper Allen's wife and children.
Donations can be made at any Incommons Bank or Citizens National Bank locations. For a list of each Bank's locations, please visit their websites: www.cnbtexas.com or www.incommonsbank.com.