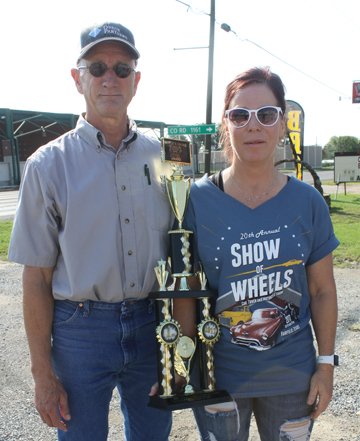 People's Choice Award Sponsored by Aztec Express
BE SURE TO CAST YOUR VOTE for the People's Choice Award trophy during Fairfield's 20th Annual Show of Wheels this Saturday, September 9, 2017.
Sponsored by Jerry Dotson and Barbara Dotson of Aztec Lube & Tire, the PEOPLE'S CHOICE AWARD is, perhaps, the most coveted trophy by enthusiasts of vintage cars, trucks and motorcycles.
The event offers over $1,000 in cash prizes, trophies, and plaques. Cost to enter is $25 per vehicle, with thirty-seven different classes.
This year's Show of Wheels will be held from 8:00 a.m. – 3:00 p.m. on the Freestone County Courthouse square.
There will be food vendors, live music by the Route 66 Band, and plenty of shade.
(Photos by Karen Leidy)