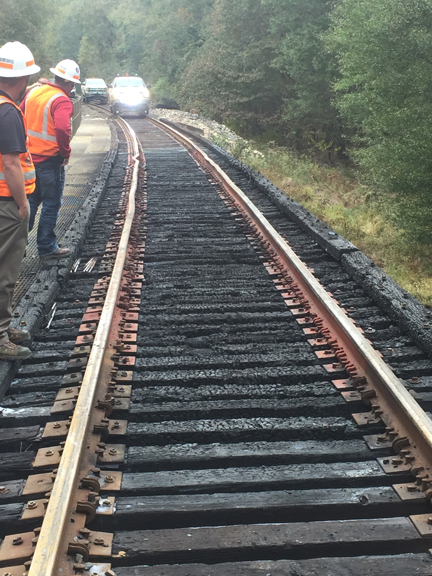 Oakwood and Butler Volunteer Fire Departments teamed up to battle a train and bridge fire on Tuesday, October 31, 2017.
A Union Pacific bridge that crosses the Keechi Bottoms, about 4-miles Southeast of Oakwood, was on fire as the train crossed, igniting the train's engine.
"The cause of last week's bridge fire is still undetermined," states Jeff DeGraff, Union Pacific Director of Corporate Relations and Media in Texas. "Investigators have reviewed the video from the train that was involved in the fire, as well from trains that previously passed through the area. Inspections of the locomotives and rail cars that passed over the bridge have been completed, and follow-up inspections are now occurring. At this time, no conclusive evidence has been found that points to a cause."
DeGraff continues, "We are pleased that the crew aboard the train that was caught by the fire was able to get clear of the area unharmed. They followed their training and safety protocols to avoid injury."
"Our bridge team has completed the necessary repair work and the bridge was inspected and cleared for traffic on Wednesday morning," he concludes.
Butler VFD was asked to assist Oakwood with mutual aid. They provided two brush trucks and much needed manpower. They report that the area was very difficult to reach, yet they all pulled together to successfully extinguish the fire.