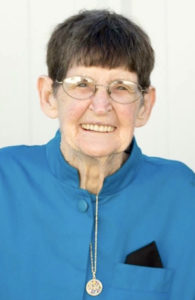 Funeral services for Tiny Mae Payne Griffin Robinson, 86, were held Friday, July 28, 2017 at Bowers Funeral Home in Teague with Brother with Dale Hergett officiating.
Interment followed at Woodland Cemetery near Kirvin.
Mrs. Robinson was born September 12, 1930 to the late Charley and Polly Payne in Streetman, Texas.
She married John T. Griffin with whom she shared 35 years until his death in October 1985.
She later married William Lloyd Robinson of Streetman in October 1999 and they were married until his death in November 2008.
"Miss Tiny," as she was known by many, taught children's Sunday School at Kirvin Baptist Church for almost 50 years working with 1st, 2nd, and 3rd grade children. In this time, she touched many young lives with her love and commitment for God's word. She also taught other children's activities and served as church clerk for many years.
Mrs. Robinson was very proud of her heritage and loved to talk about family history; where she grew up, past relatives, and adventures of her childhood with nine siblings.
She kept up with her numerous current relatives, and was always interested in new family members and keeping up with her family charts.
Mrs. Robinson was preceded in death by daughter Nancy McDaniel; grandsons, Justin Rollins and Gary Robinson; brothers, Orville Payne, Billy Payne and Fred Payne; sisters, Bobbie Walker and Vallie Griffin.
She is survived by daughters Mary Croft and husband Frank of Kirvin, Betty Wilcoxen and husband Mike of Kirvin, Donna Bellah and husband Larrye of Streetman, Lisa Burkhalter of Troup, and Linda Butler and husband Blake of Texas City; son, Thomas Griffin and wife Brenda of Dew; step-sons, Johnny Robinson and wife Cindy of Streetman, and James Robinson and Kaylynn of Mesquite; sisters Jimmie Posey of Mexia, Nancy Yanca and husband Chuck of Colorado, and Doris Cooper and husband Richard of Rosenberg; brother Frank Payne and wife Helena of Hewitt; 35 grandchildren, 66 great-grandchildren, and 7 great-great-grandchildren; numerous nieces and nephews spanning four generations.
In lieu of flowers, the family requests that memorials be made to Tiny's home church, Kirvin Baptist Church, at P.O. Box 236, Kirvin, Texas 75848.
Please visit Bower's Funeral Home online at http://www.bowersfuneralhome.netto sign the memorial guestbook or to leave a message for the family.