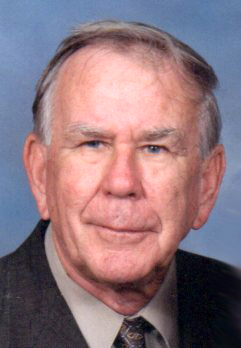 Thomas (Tom) Dean Tedrow, 85 of Fairfield passed away Sunday, September 24, 2017.
Tom was born on May 7, 1932 in Jewett, Ohio to Albert and Clara Tedrow. He was the youngest of four children. Tom Served in the Air Force for four years during the Korean Conflict.
He married Peggy Evans on August 21, 1954 and they had three daughters.
Tom worked at McDonnell Air Craft and Bell Helicopter before moving to Fairfield in 1972 to help with the family cattle.
He began working at Nucor Steel in 1975 and retired in 1995.
Tom was also a member of the First Baptist Church.
His hobbies included hunting, fishing and attending his grandkids sporting events.
After 50 years of marriage Peggy passed away on February 26, 2005.
He married Ginny Gadd, an old family friend on September 19, 2009. They spent six months of each year in West Virginia and the rest at his home in Fairfield. They were married for eight years before his death.
Left to cherish his memories are his wife, Ginny; daughters, Tammy Ives and husband David of Palestine, Terri Mayo and husband Teddy of Fairfield and Tracey Schlabra and husband Steve of Livingston; step daughter, Caroline Powell and husband J.C. of Charleston, West Virginia.
He is also survived by granddaughters, Megan Lane and Amy Nold and her husband Brian; grandsons, Thomas Schlabra and his wife Emily and Jared Schlabra; step grandson, Talbott Powell; great grandchildren, Kennedy Lane, Owen Lane and Caleb Nold and one sister, Mary Merlini of Fort Ashby, West Virginia. The family would like to thank Pam, Judy and Jerianne at Virginia Hospice.
Visitation was Tuesday evening at Griffin – Roughton Funeral Home.
Funeral services were Wednesday, September 27, 2017 at the Chapel at Griffin – Roughton Funeral Home with Bro. Ed Ridge officiating.
Burial followed at Fairfield Cemetery.
Pallbearers were David Ives, Teddy Mayo, Steve Schlabra, Thomas Schlabra and Brian Nold.
An online guest book is available at www.griffin-roughton.com
Arrangements by Griffin-Roughton Funeral Home.