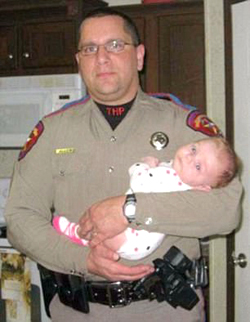 Thanksgiving Day ended in sadness and heartbreak for most of Freestone and Limestone Counties as news spread of the shooting death of Texas Department of Public Safety Trooper Damon Allen (pictured at left).
At about 3:45 p.m., Trooper Allen, 41, of Mexia (working for Freestone & Limestone Counties) made a routine traffic stop on Thursday, November 23, 2017, at the 194 mile marker in the southbound lane of Interstate 45 near Dew.
Trooper Allen made contact with the driver, identified as Dabrett Montreal Black, 32, black male, of Lindale, Texas. When he returned to his patrol unit, Black followed him with a rifle and opened fire through the patrol unit window. As Trooper Allen opened his door to return fire, he was struck in the head by a bullet and died on the scene.
Black fled in a 2012 four-door, champagne-colored Chevrolet Malibu with Texas license plates. At this point, a massive man-hunt ensued throughout most of central Texas; and I-45 Southbound was closed for several hours as DPS Crime Scene Investigators and the Texas Rangers worked the scene.
Later that evening, Black was spotted on foot in Waller County, northwest of Houston, where he again shot at law enforcement.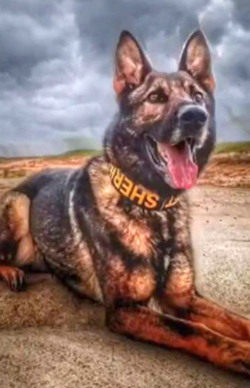 K-9 Officer Odin (pictured at left) and his partner, Deputy Andrew Blauser of Waller County Sheriff's Office were brought in to assist with apprehending the suspect.
At approximately 8:45 p.m., Black was in cuffs and being treated for bite wounds prior to being taken to Brazos County Jail.
Justice of the Peace, Pct. 1, Theresa Farris, pronounced Trooper Allen deceased at the scene and his body was sent to the Institute of Forensic Sciences in Dallas (IFSD) for an autopsy.
Many brothers-in-arms gathered at IFSD to greet and salute Trooper Allen as he arrived late Thursday evening.
The official autopsy report, signed by Examining Pathologist Chester Gwin, M.D., states cause of death as homicide by rifle wound to the head.
"The state of Texas has the finest law enforcement in the nation," says Freestone County Sheriff Jeremy Shipley. "Today, like we always do, we came together. We worked together. And, through the tears we carried out our duty and apprehended the suspect of this heinous crime. This suspect will face justice for the State of Texas"
Sheriff Shipley thanks the following for their help in apprehending the suspect: K9 Odin and his partner Deputy Blauser, Waller County Deputies, Criminal Investigative Division, SWAT, Texas Department of Public Safety, Texas DPS Helicopter, Texas Rangers, Grimes County Sheriff's Office, Hempstead Police Department, Harris County Sheriff's Office, Houston Police Department and their K9, Texas Department of Criminal Justice PACK Dogs, Austin County Sheriff's Office, Harris County Pct 4, Waller Police Department, and Colorado County Sheriff's Office.
Trooper Allen has served with DPS since 2002. He leaves behind a wife, three children, and many loved ones.
---
Suspect in Custody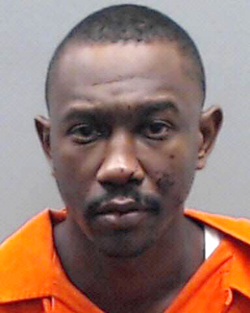 This was not the suspect's first run in with law enforcement.
In July 2017, Dabrett Montreal Black was jailed in Smith County following a car chase with deputies that ended when he struck a patrol vehicle; and both he and the deputy were transported to a hospital with non-life-threatening injuries. Black was charged with evading arrest and aggravated assault on a public servant, and reckless driving; but was out on bail.
Late Friday evening, November 2th, following his apprehension for the shooting death of Trooper Damon Allen, Black was transferred from Brazos County Jail to Freestone County Jail where he was magistrated by Justice of the Peace Theresa Farris.
Black has been charged with the Capital Murder of a Peace Officer, a Capital Felony, and was given a no bond.
He was then transported to Limestone County Detention Center for housing.
The case is being investigated by the Texas Rangers and, at present, is being reviewed by Freestone County Attorney Brian Evans for prosecution.