A beautifully renovated Community Center was the backdrop for this year's Teague Chamber of Commerce Awards Banquet, held Thursday, April 13, 2017.
Crowd favorite, Ricky Sims, served as Master of Ceremonies.
Taking the stage for the first time was the Teague Police Department, who presented two awards.
—Officer of the Year is Jason Morgan. (Pictured Above)
Officer Morgan is a 2011 graduate of Teague High School. He and his wife, Jessica, recently welcomed the Teague Police Department's K-9 Zelda into their home.
Zelda, and her partner Officer Morgan, have reinstituted the K-9 program with great success. Morgan also leads field training for the department.
Chief Dan Ramsey shared that Morgan's professionalism is one of the reasons he chose to come to Teague.
—Rookie of the Year is Markeisha Cox. (Pictured Above)
Cox is a 2010 graduate of Fairfield High School. She continued her family's legacy in law enforcement when she became a reserve officer for the Teague Police Department in January of 2016, hiring on as a full-time officer by February of the same year.
Officer Cox is the mother of three-year-old Kennedy, and an active mentor at Teague Elementary School.
Students of the Year were named for each campus at Teague ISD.  They are as follows: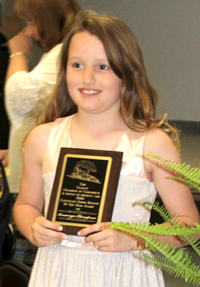 –Elementary School – Kamren Thompson
Thompson was described by teacher Theresa Minchew as a student with a lot of heart, grit, and determination. Always wanting to know more and striving to be a better person.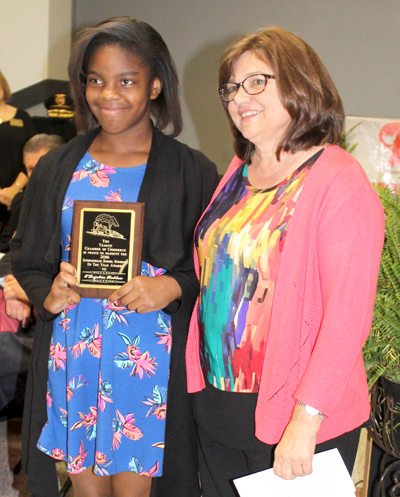 –Intermediate School – E-leyshia Roblow
Principal Vickey Little shared that Roblow possesses all the qualities of an outstanding student who is committed to her education.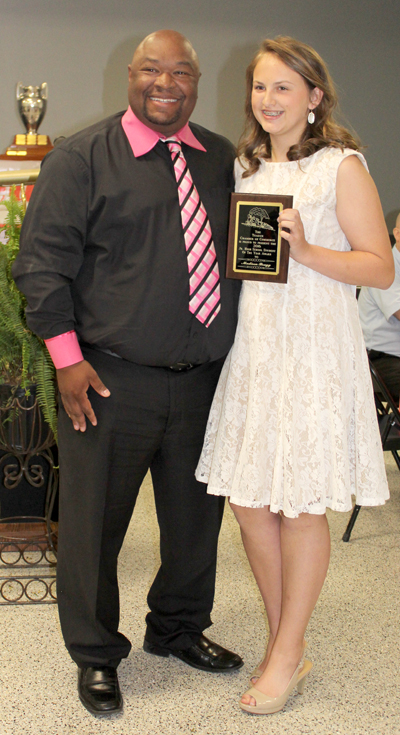 –Junior High School – Madison Bragg
Coach Chris Nickleberry described Bragg as a hardworking student who is loved by both her teachers and peers.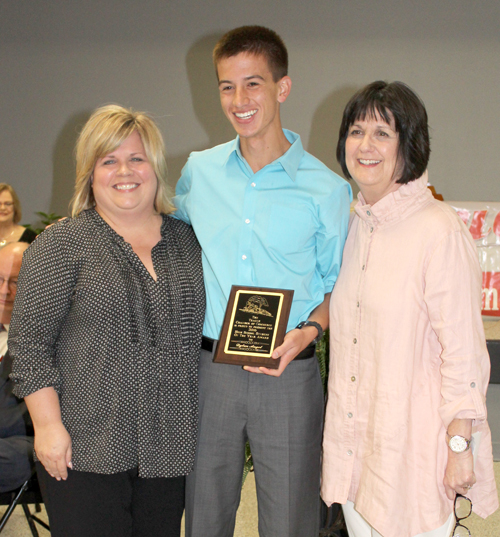 –High School – Dylan Angel
"He dared to dream it, and worked hard to achieve it!" shared teacher Gayle Waldrip.
High School Counselor Tracie Ezell told of her past experience with Angel while he was a student at Dew ISD.
"My substitute folder said, 'If you have any questions, ask Dylan!'", she recalled.
"Dylan is a doer," she continued, "He does. He doesn't talk about it, or think about it, he does it!"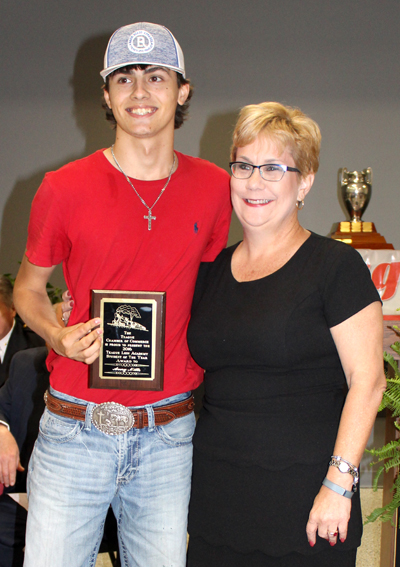 –Lion Academy – Avery Mills
"He was instantly a bright spot in our program," gushed Catherine Schmidt, Director of the Teague Lion Academy.
Mills was voted Student of the Year at the Academy, and described as the picture of politeness, as well as a wonderful role model.
He set a goal to graduate early, and completed the program in January. He has since been accepted to Texas State Technical College (TSTC) in Waco.
This year, Community awards were decided by public vote.  Those honored for 2017 include the following: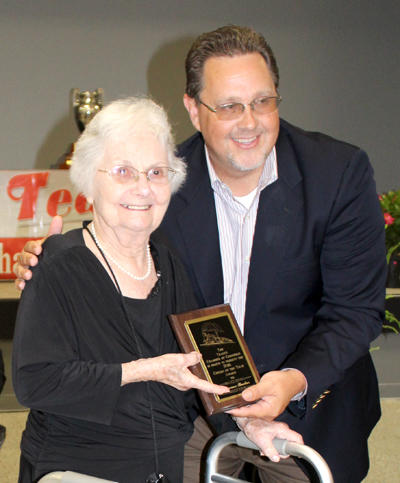 –Citizen of the Year – Florence Barker, a weekly volunteer at the Lord's Community Storehouse.
Mrs. Barker has spent much of her life in service to her fellow man, working as a nurse's aide under Doctors Gage and Halbert for many years. She has also visited all fifty states through the Christian Builders Association. She spends much of her time volunteering at the Lord's Storehouse.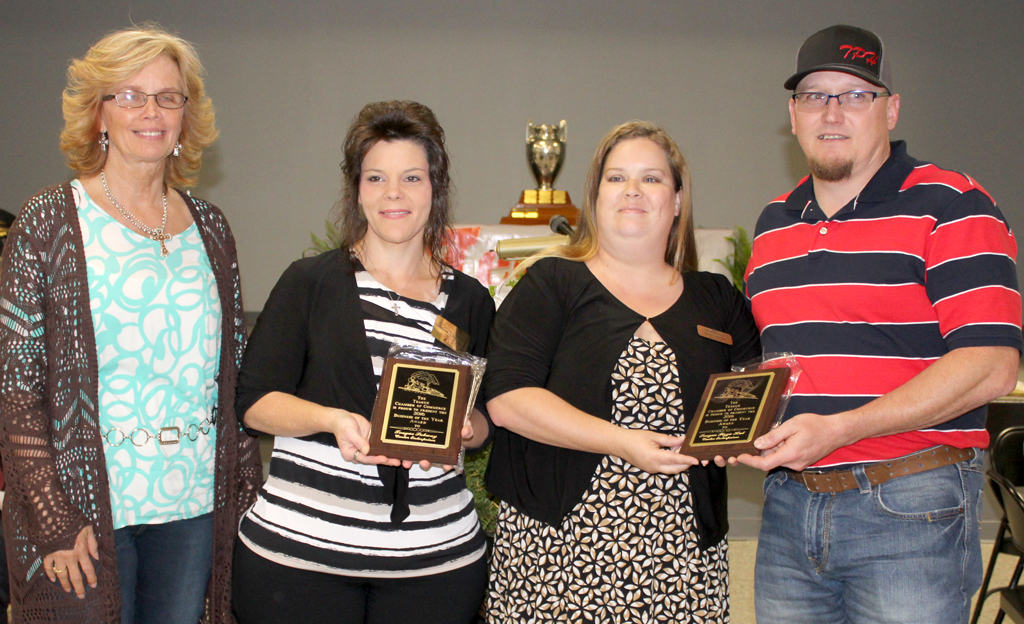 –Business of the Year – Subway/Pizza Hut, owned by Carter Enterprises.
Both businesses were recognized for their dedication to profit sharing and support of numerous community events.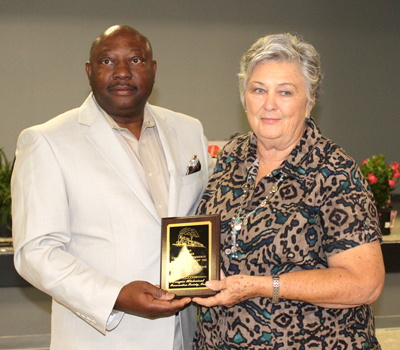 –Organization of the Year – Teague Historical Preservation Society.
Founded in 2001 with only five members, the Society now has eight board members and has accomplished a great deal in the years since its organization.
Restoration of the Teague Hotel is now half way complete, and the grounds are currently available to rent for special occasions and events.
Much of the Society's fundraising is done through the Teague Thrift Store, which is run by volunteers.
The coveted Boyd Cup and the Humanitarian awards are selected by previous recipients.  No one was chosen for either award this year.
Teague Chamber of Commerce President Rhonda Jones gave a report of upcoming events in the City, including May Fest at the historic Teague Hotel on May 6, 2017; the City Wide Garage Sale on May 13th; the Chamber's annual Hamburger Supper before the Teague Rodeo Parade in July; National Night Out, hosted by the Teague Police Department in the fall; Park Fest, along with an exciting BBQ Cookoff, in October; and the Christmas Lights in the Park in December.
Jones also shared that the Chamber is working to bring the circus back to Teague in 2018, as well as the possibility for a carnival in the future.