CALVARY BAPTIST CHURCH'S SUMMER YOUTH MISSION TRIP was a tremendous success as the group visited Jacob's Well Church in Chicago, Illinois. A game of baseball was also enjoyed at Rigley Field to watch the Chicago Cubs play.
Those participating in the mission trip (left to right): were Lauren and Christy Hager of Jacob's Well Church, Calvary members Chance Bancroft, Calvary youth minister Devin DiGuilio, Trystan Kahrs, Jasmine Gomez, Nikki DiGuilio, Jordyn Harris, Alex Gallegos, Kaylee Pickering, Madison Thaler, Amie Mullen, Janet Race, Music and Education Minister Shelby Race, Kaitlyn Gilbert, Ellie Grissett, Miller Smith, Robin Smith, Jason Smith, Tommy Miller, and Rob Hager (not pictured).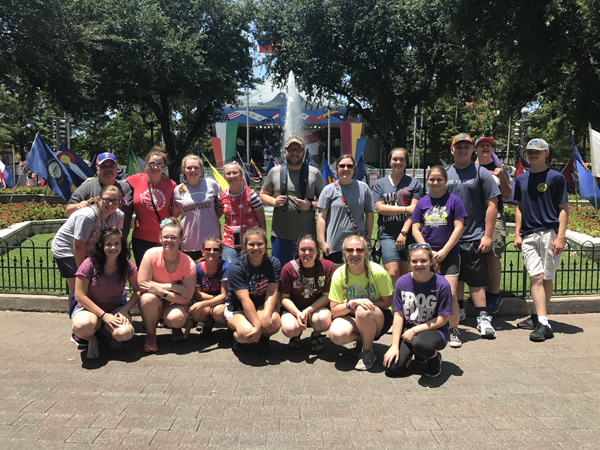 IT WAS A GREAT TIME FOR BOTH ADULTS AND YOUTH from Calvary Baptist Church as the group made their annual visit to the Soar United facility in Dallas.
Those attending were (top – left to right): Music and Education Minister Shelby Race, Trisha Wren, Jordyn Harris, Savannah Ellis, Youth Minister Devin DiGuilio and wife Nikki, Madison Thaler, Joyce Ferguson, Chandler Noble, Trystan Kahrs and Chance Bancroft. Shown also (bottom – left to right): are Kaitlyn Gilbert, Rachel Chavers, Amie Mullen, Ellie Grissett, Jasmine Gomez, Tiffany Knowles, Erin Rachel and Jaysa Smith.