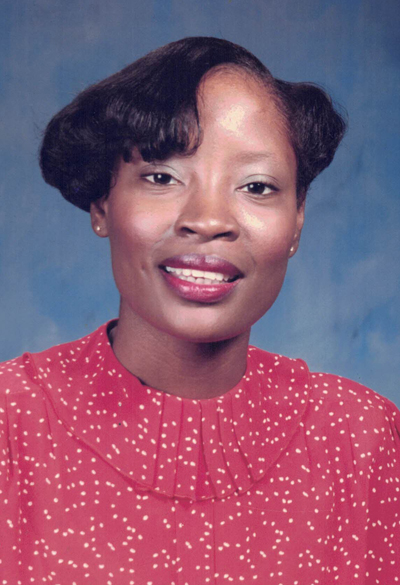 Mrs. Robbie Irene Slaughter Blacknall went home to be with the LORD on August 14, 2017 at her home in Grapevine, Texas with her husband and son at her side.
Robbie Irene Blacknall was born December 10, 1959, to the parents of Irene Marie Carroll Slaughter and the late Nelson Walter Slaughter Jr. at Nellis Air Force Base, Las Vegas, Nevada. She confessed her faith to Christ at an early age at New Zion Baptist Church in Fairfield, Texas.
In those early years, during the summer months, she attended Old Hickory Boulevard Church of Christ in Nashville, Tennessee. Robbie was a devoted and cherished member. Robbie and her family were faithful members of Glendale Presbyterian Church where she served as a member of Glendale Voices of Praise. They later attended First Presbyterian Church in Lancaster and when the family moved to Grapevine Robbie served faithfully until her health failed.
Robbie graduated in 1978, from Fairfield High School, Fairfield, Texas. She was active in many extra-curricular activities, which included band, student council, and cheerleading.
Robbie attended East Texas State University in Commerce, Texas, where she excelled academically and earned a Bachelor and Master's degree in Education.
Soror Robbie Slaughter-Blacknall, Epsilon Sigma, Spring 1979.  Soror Robbie was initiated on the "6 Gems of Serenity," line on the campus of East Texas State University.
After college graduation, Robbie married her college classmate and sweetheart, Wilmer Blacknall Jr. and to this union, they had three boys.
Robbie began her career in education in Corsicana Independent School District. She and her family later moved to Dallas, Texas where she continued teaching at Duncanville Independent School District, later becoming a principal. Robbie retired from Duncanville ISD, after 30 years of service. However, after a couple years rest, she started working at the Gaylord Resort in Grapevine Texas. She continued working as the director of the spa at Gaylord until March 2017, when her health failed. Robbie loved and took great pride in each of her jobs, giving her very best at all times to her employers.
Funeral services for Robbie Irene (Slaughter) Blacknall were held Saturday, August 26, 2017 at Glendale Presbyterian Church of Dallas, Texas.
Active Pallbearers were Christopher Sweeney, Craig Carter, James Slaughter, Cory Allen, Herman Griffin, Albert Davis III, and Harvey Finnen.
Honorary Pallbearers were Bobby G. Slaughter, Nelson W. Slaughter III, Michael Slaughter, Ray Slaughter, and Marvin Sedberry.
Robbie was laid to rest at Lincoln Memorial Cemetery of Dallas, Texas.
Robbie is preceded in death by her father, Nelson Walter Slaughter Jr. and her son, Christopher Robin Blacknall.
Robbie leaves to forever cherish her precious memories: her loving and devoted husband Wilmer Blacknall Jr.; two sons, Wilmer III and Skylar Colby (Dewanna (DeeDee); granddaughter, Arial Skylar; her mother, Irene Marie Slaughter; mother-in-law, Margaret Blacknall; brothers, Nelson Slaughter (Etta), Michael Slaughter, her twin, Bobby Slaughter (Cathy), and Ray Slaughter (Carla); sister, Jackie Sedberry (Marvin); sisters-in-law, Linda Flood, Elsa McDonald, Ava Daniels and a host of uncles, aunts, nieces, nephews, cousins, many dear friends and co-workers.