Da'Meka Shed jumped her way into the finals in the 300 meter hurdles and took the top spot and advanced to the State Track and Field Meet in Austin in two weeks.
Shed finished third in the preliminaries and qualified for the finals in the event.  She won the event in a photo finish and the times proved as close as the race.  Her time of 44.80 (breaking her own school record) narrowly beat out Jessica Nevils of Hampshire-Fannett.  Nevils came in at 44.81.  Both qualify for the state meet in what should be an entertaining event.
Madison Smith finished third in the 3200 meter run and fifth in the 800 meter run.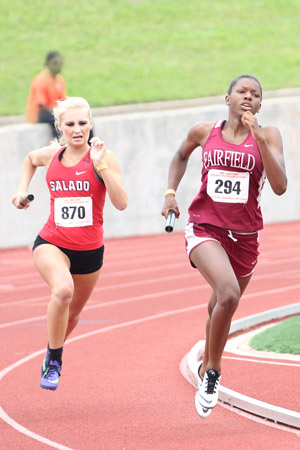 The mile relay team of Matilda Ohvo, Alexis Rodriguez, Iesha Jenkins (pictured above on right) and Da'Meka Shed also broke a school record.  There 4:04.10 time was good enough for fourth in the meet but it was the best in school history.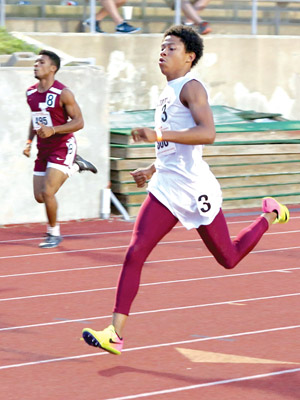 A.J. Polk (pictured above, #3) advanced to the finals in the 200 meter dash and finished seventh in the finals.  Keara Birdow finished fifth in the shot put.
Morgan Coleman (3200 m), Josie Richardson (discus), Cali Gawryzewski (pole vault) and Brandi Carter (200 m) were also in the regional meet in Huntsville.
Wortham sophomore sprinter Zaria Oates participated in the 100 meter and did not make the finals at the regional track meet at Palestine High School.
Oates did return and make the finals in the Triple Jump qualifying sixth in the preliminaries.  She held that sixth position throughout the finals.  Nakia Dunn from Kerens won the event.
Freshman Nikki Boney missed a chance to head to the state meet as her spectacular season fell short.  She finished fourth in the 3200 meter run.
Kemontrell Jackson (200m), Ryan McDaniel (110 m hurdles and discus) competed in Palestine.
Senior sprinter Jaylon Davis competed at the Clyde Hart Track and Field Stadium in Waco in the regional track meet.  His time was third in the preliminaries and his final time was good enough for a third place finish, waiting to see if it qualifies for the state meet.  The top two times were track records set by Will Anderson of East Bernard (48.90) and Cash Crane of Leon (49.18).
Davis also competed in the triple jump and finished 14th.
Jaquayon Daniels made the finals in the 110 meter hurdles and finished seventh.
Kylie Persons (100 m), Lizette Aguilera (1600 m, 3200 m), Macy Guerrero (triple jump), Monica Guerrero (shot put), and Marcus Williams (discus) competed in Waco.
(Photos by Melissa Lee)