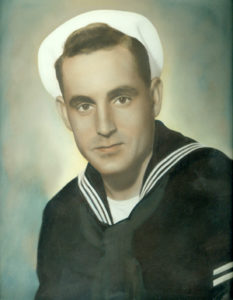 Raymon Lee Welborn, Sr. 87, of Fairfield, passed away Saturday, July 28, 2017 in Tyler.
Visitation was held Wednesday, August 2, 2017 at Capps Memorial Chapel.
Funeral services will be 1:00 p.m. Thursday, August 3, 2017 at Emmanuel Baptist Church with Bro. Don Suits, II officiating.
Graveside services will be 1:00 p.m. Friday, August 4, 2017 at San Jacinto Memorial Park in Houston.  Pallbearers are Lee Welborn, Ashley Welborn, Roy Durrenberger, Craig Whittaker, Ray Welborn and Ryan Bay.
Mr. Welborn was born May 22, 1930 in Pelican, Louisiana to parents Lee Roy and Lissie Claire Welborn.  He was a veteran of the U.S. Navy.  In 1955, he married Elsie Lee Ingram in Houston.
He retired from Armco Steel and had been a resident of Fairfield since 1991 moving from Houston.  He was a member of Emmanuel Baptist Church and VFW Post 5872 in Fairfield.  He also volunteered for many years with the Global Heart Food Pantry in Fairfield.
Mr. Welborn was known for his love of camping, fishing, hunting and woodworking.  In addition to his parents he was preceded in death by a brother, Billy Welborn.
Left to cherish his memory is his wife Elsie of Fairfield; three children, Raymon Welborn, Jr. and wife Teresa of Pasadena, TX; Terri Whittaker and husband Craig of Richmond, TX; Kimberli Welborn of Tucson, AZ; two brothers, Bobby Welborn and wife Faye of Baytown; Cecil Welborn and wife Alice of Temple, TX; seven grandchildren, Lee Welborn, Ashley Welborn, Sarah Bay, Leah Whittaker, Rachel Whittaker, Roy Durrenberger and Rayli Durrenberger; six great-grandchildren, Piper, Harper, Lillie, Logan, Karli and Averi
To view an online obituary, send a personalized sympathy card, or leave the family a personal tribute, please visit our website at www.cappschapel.com