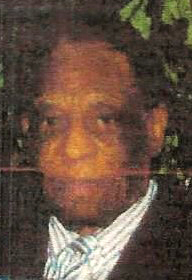 From Labor to Reward, Pastor Clemmie J. Wiley left his earthly home on Friday, December 8, 2017 to join his beloved wife of sixty years of marriage, and his Heavenly Father. His love for the word and God was indescribable. He was a passionate bible teacher, whose desire was to be a living testimony, glorifying our Lord and Savior Jesus Christ both in word and in deeds. Clemmie J. was nurtured in a Christian home with biblical values and principles. Chosen by God and unable to deny the call, he accepted Christ as his Lord and Savior at an early age. Throughout his ministry, he preached and taught the word of God with authority, revelation, and deliverance.
Clemmie J. Wiley was born October 22, 1933 in Mexia, Texas to the parentage of MaybeII Smith and Bill Wiley. They preceded him in death. He was the eldest of six siblings. His brothers, Charles Brooks and Frank Wiley; and a sister, Shirley Wiley-Smith are all resting with the Savior, while his sister, Ruthie Bowers-Brown; and brother, Attrib Bowers, Jr., are continuing their earthly word of the Lord.
Clemmie J. attended The Sims Colony Schools and completed his education in the Furney Richardson School District in Limestone County. He had a love and passion for music which drew his interest in becoming one of the world's greatest and outstanding guitarist. He set the trend in playing/picking the guitar with his teeth and behind his head. He performed at the New York World Fair.
After spending numerous years travelling and playing on the road with his band, he rededicated his life to this first love which was Christ. In 1974, he totally surrendered his life and became one of God's Servants. He became a dedicated member of Gilgal Missionary Baptist Church in Dallas, where he became an ordained minister.
Clemmie J. met the girl of his dreams and united in marriage to Sally Joe Williams who preceded him in death exactly one year and one day of his passing away. To this wonderful union, eight lovely children were born. Two preceded him in death: William C. Wiley and Lisa G. Wiley. After being married for a while, he and his wife were called to establish Wiley Chapel Baptist Church in Dallas in July of 1975. He relocated to Teague, Texas after twenty-six years where he pastored Grayson Chapel Missionary Baptist for 10 years and First Baptist South Teague church for 14 years until his health began to fail.
Clemmie J. Wiley is survived by three sons: Clemmie J. Wiley, Jr., (lba), Lancaster, TX; Samuel Wiley and Paul Wiley, Teague; Daughters: Vicki D. Branch, Teague; Cheryl L. Wiley, Ft. Worth and Stephanie K. Wiley, Grand Prairie; 9 grandchildren; 23 great-grandchildren; Siblings: Attrib Bowers, Jr and Ruthie Brown; Special daughter-in-law: Sylvia Brown and on-in-law: Gary Banks and Johnny Floyd.
Funeral Services were held Saturday, December 16, 2017 at 11:00 AM in the First Baptist Church South Teague, where Rev. Rodney Jackson is pastor. Rev. John DeLancey officiated and Interment was in the Grove Island Cemetery, Teague, Texas. Moore's Angelic Funeral Home, 406 Monroe Street, Teague, Texas served the Wiley Family.