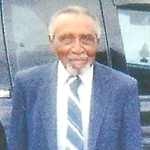 The Angelic Hosts came for Mr. McKenzie Jackson at his residence in Balch Springs, TX among loving family and devoted friends.
Viewing and a Prayer Service, with the family present, was held Friday, March 31, 2017.
Funeral Service were held Saturday, April 1st at the Grove Island AME Church located at 561 CR 901, Mexia, with Rev. Coby Shorter, III of Austin, TX Officiating and Rev. Stanley Johnson, pastor of Grove Island AME Church serving as Eulogist.
Interment was in the Grove Island Cemetery.
McKenzie was the first child born to the late Alfronzo and Vernada Carter Jackson. They welcomed in their new arrival on December 28, 1927 in the county of Limestone, city of Mexia, and the state of Texas.
Alfronzo and Vernada lived distantly from school, so the parents kept McKenzie home and did home schooling until his sister was older and they could send the two children to school together.
McKenzie was too little to walk that distance alone; consequently, McKenzie and his sister, Ervie, graduated together. He graduated from Furney Richardson High School in May of 1946, Teague, Texas.
At an early age, McKenzie accepted Christ and became a member of Grove Island AME Church. He served faithfully all of his childhood and adult life. He served as a member of the choir, superintendent of Sunday School, Class Leader, Steward and trustee. He sang with other church choirs also, but knowing that Grove Island came first.
McKenzie had a strong voice and he loved to sing. He participated in quitated singing and his strong baritone voice was strongly heard throughout the building.
Later McKinzie served in the community as president of Grove Island Cemetery. He kept the cemetery well attended as a free service to the community.
Not only was he a servant in his community, but he was also a servant to his country. He became U.S. private first class in the U.S. Army in the year of 1950. He was only there a few days prior to his father's death. But time does not stand still.
The Bible speaks of "man having a help-mate"—Genesis 2:18. He united in Holy Matrimony to Altha Lee Davis on October 6, 1951 who preceded him in death.
He later married Onita McClendon and through that marriage, he became step-father to two children: Keven and Nicchole McClendon. They were precious in his sight.
McKenzie and Altha Lee showed their love and patience for other nieces and nephews in the family. They showed their concern, kindness and devotion for Althea and Andre. They lived with McKenzie and wife until God called Althea Lee home.
Not only did they show kindness to those children who lived with them in their home, but there was the loving nephew, Billye Earl who lived close by. He came daily with McKenzie's little younger siblings to watch T.V. because they didn't have one their home.
McKenzie showed his compassion for children in the surrounding communities by using his talents to coach "Little League" baseball. What a team he had! They practiced what a team he had! They practiced hard, played well and won their games. He also loved animals and he cherished his three pet racing dogs. Their names were Fly, Flapper and Pistol. Inasmuch as McKenzie loved, encouraged and appreciated, he also received kindness, love, sincere concern. Billye and Verna accepted McKenzie into their home 5 years.
McKenzie was preceded in death by his wife: Altha Lee, his parents: Alfronzo and Vernada Jackson and his siblings: Rev. Ervie Clemons, Clara Gillespie, Rachel Williams, Phyllis Jackson and his only brother: Rufus Jackson, Sr.
He leaves to cherish his precious memories and undying love: Loving niece and nephew: Billye and Verna Jackson, Balch Springs, TX; sisters: Mrs. Ruth Earlean Livingston, Stockton, CA; Mrs. Dorothy Cox, Dallas, TX; and Mrs. Cornetta Smith and husband, Rev. Dayton Smith, Vancover, WA; brother-in-law: Thomas Williams, Dallas, TX; numerous nephews, nieces, and other relatives and friends.
Moore's Angelic Funeral Home, located at 406 Monroe Street Teague, Texas is serving the Jackson Family. Visit their website at mooresangelicfuneralhome.com to sign the guestbook and light a candle.