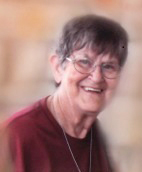 Mary Frances Atkins Garrett, 73, of Fairfield, entered Heaven on Tuesday, May 30th, 2017. She was born, in Arkadelphia, Arkansas, on July 6, 1943 to Bessie Margaret Leona Leath Atkins and Lewell Earl Atkins.
A memorial service will be held Friday, June 9, 2017 at 10:00 a.m. at Fairfield Nursing & Rehabilitation, 420 Moody Street in Fairfield, Texas.
After graduating high school, she made her way to the Dallas area where she met and married Pat Garrett. They lived in Duncanville for 27 years, where she took pride in her role of mothering their combined 4 children. In addition to working, she spent a good portion of her time volunteering in the classroom, serving as team mom, and chaperoning school events. She was a talented writer, skilled at both wording and penmanship, and loved to do a variety of crafts. Most who encountered her labeled her as "one of a kind", with an outgoing personality and sense of humor. Ms. Garrett maintained her humor while battling medical problems and remained devoted to loving her grandbabies.
She was preceded in death by her parents and her two brothers, William Howard Atkins and Don Earl Atkins.
Mary is survived by her daughter, Shae Garcia, and son-in-law Andy, of Streetman, and their children: Drew, Abby, and Ashlyn. She is also survived by her son, Shawn Garrett, and his wife Sharlene, of Scurry, and their children: Carissa & her husband Kris Bethea, Matthew, Madison, and Connor. She will be missed by her two step-sons, Marc Garrett and his wife Mandie, of Ft. Worth, and Scott Garrett and his wife Bobbie and daughter Melissa, of Carrollton. Mary leaves her only remaining sibling, her sister Wanda Bennett, and her husband Bill, of Arkadelphia and their children and grandchildren. She is missed dearly by her special companion Jimmy Anderson of Fairfield. To know her was to love her and she will be grieved by many other family members, friends, and those that live and work at Fairfield Nursing & Rehabilitation, where she was residing.
Services will be held in two locations. The first service will commence at 10:00am at Fairfield Nursing & Rehab. Then a memorial service will begin at 1:30pm at Trinity Family Church in Forney, with a visitation immediately following. Interment will be at 4:00pm, for family, at Laurel Oaks Memorial Park in Mesquite. As an expression of sympathy, memorial contributions for books and puzzles may be sent to Fairfield Nursing and Rehabilitation Activities Fund, 420 Moody Street, Fairfield, TX 75840.
The family wishes to extend their gratitude to Virginia's Hospice for their support in her final days.