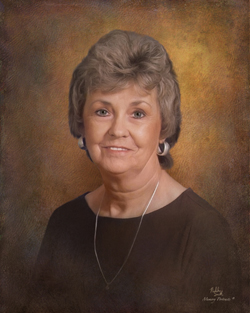 Mary Elizabeth (Betty) Kellum, 79, of Fairfield, passed away Wednesday, January 31, 2018 in Arlington.
Memorial services were held 10:00 a.m. Saturday, February 3, 2018 at Round Prairie Baptist Church with Bro. Ed Ridge officiating.
Betty was born June 15, 1938 in Percilla, Texas to parents Hall and Frankie Daniels Wilson.
She married James W. (Jim) Kellum on September 12, 1955 in Ore, Texas.
Betty came to Fairfield in 1963 from Grapevine when Jim was transferred to Fairfield with the Texas Dept. of Public Safety.
She was a longtime member of Round Prairie Baptist Church.
Betty was an avid gardener, both floral and vegetables.
She was also known for her skill at, and love of, deer hunting.
The most important thing to Betty was her family; most especially her grandchildren and great-grandchildren whom she was very proud of.
Betty was preceded in death by her parents.
Left to cherish her memory is her husband Jim; three daughters, Janie Parker of Fairfield; Linda Johnson and husband Jerry of Arlington; Mary Gilbreath of Fairfield; one sister, Linda Milam and husband W. C. of Lufkin; eight grandchildren and seven great-grandchildren.
The family requests memorials to the Youth Department at Round Prairie Baptist Church
To view an online obituary, send a personalized sympathy card, or leave the family a personal tribute, please visit www.cappschapel.com