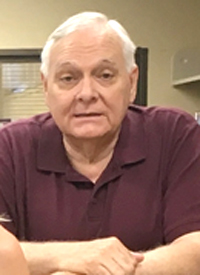 Lyle Red, 71, of Fairfield, passed away Saturday, February 3, 2018 in Dallas.
Memorial services were Sunday, February 11, 2018 at the First United Methodist Church with Dr. Richard Heyduck officiating.
A private interment was held earlier that day at Fairfield Cemetery.
Lyle was born August 31, 1946 in Fairfield to parents Lendon L. and Alice Lee Parker Red.
He was a 1964 graduate of Fairfield High School. He attended the University of Texas at Arlington and received a Bachelor of Business degree from Stephen F. Austin State University in Nacogdoches.
Lyle was married to the former Sally Rogers of Junction, Texas on December 29, 1979.
Lyle was the owner and operator of Lyle Oil Co. and Parker Auto Supply for almost 50 years.
Lyle was a very active member of the community. He was a past president of the Fairfield Chamber of Commerce, a past fire marshal and fire chief and chairman of the Fairfield Emergency Medical Services.
In 1980 he was recognized as one of the Outstanding Young Men of America. He was a past Citizen of the Year, past member of the library, hospital and Red Lake boards of directors.
Lyle was a long-time member of the First United Methodist Church, having been a member of the choir for 55 years, in addition to holding just about every office within the church.
In addition to his parents, he was preceded in death by a brother, Joe Red.
Left to cherish his memory are his wife Sally; son, Ryan Red and wife Leslie of Fairfield and granddaughter, Parker Red.
In lieu of flowers, the family requests memorials to the building fund of the First United Methodist Church.
To view an online obituary, send a personalized sympathy card, or leave the family a personal tribute, please visit www.cappschapel.com