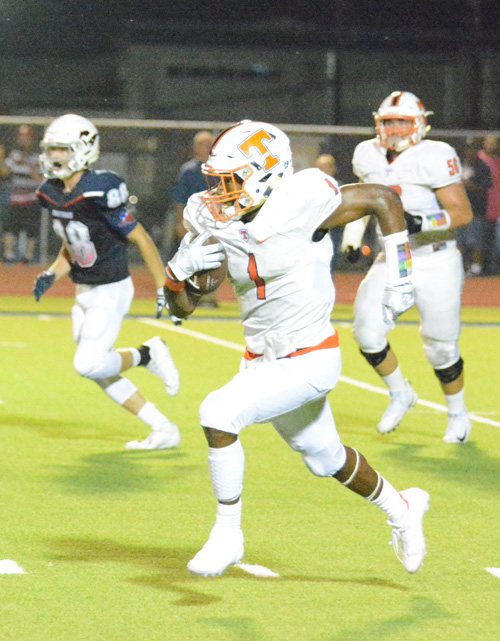 The Teague Lions had quite a week, and it ended with a loss.
The Lions were scheduled to host the Caldwell Hornets but the effects of Hurricane Harvey forced the Caldwell school district out of the building. Earlier that day, the Diboll Lumberjacks cancelled their scheduled game with Madisonville. So, the Teague coach, Donnie Osborn, and the Madisonville coach, Rusty Nail decided to play in Madisonville. The details were complete by the end of Monday.
Fast forward to the game and it appeared that both teams had seen the game plan for the first time in mid-week, that's because it was probably true. The Teague possession to open the game ended in an interception by Zach Satterwhite and Madisonville had that drive end in a missed 45-yard field goal.
Teague would also turn the ball over on downs in Madisonville territory but on the next offensive snap, Antonio Heard intercepted a Ben Phillips pass. Madisonville running back Kendall Moffett had a 90-yard run called back on a holding call and Tayvis Coleman fumbled at the Madisonville 20-yard line, all of this took place in a little over a quarter with a 0-0 game.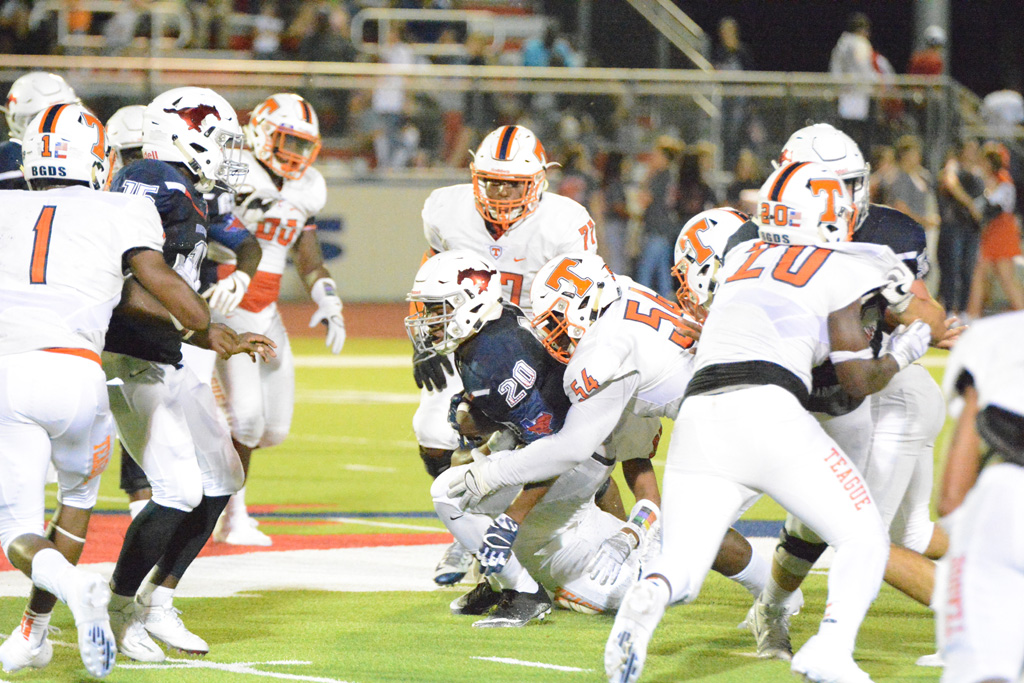 Madisonville would take the lead on a 43-yard run by Moffett to end a drive that finished with no penalties. The Mustangs added a 41-yard field goal as time expired in the first half and the Mustangs went into the locker room with a 10-0 lead.
Teague control of the momentum in the second half but it did not convert to points. The Lion defense forced a punt early in the quarter and the offense drove inside the Mustang 20. Teague could go no further than the 12-yard line and the ball turned over on downs.
Midway through the final quarter, Moffett added his second touchdown of the night on a one-yard push through the Teague defense to stretch the lead to 17-0. On the ensuing kickoff, the ball landed in between two returners and Madisonville recovered.
Moffett finished the night with his third touchdown of the night on a five-yard run and the score was 24-0 with 2:20 remaining in the game.
Teague had one final bright spot on the following kickoff. Rodney Kuykendall took the kick and raced upfield for a great return to Madisonville 15-yard line, but the drive ended in a turnover on downs.
The Lions will face the Mexia Blackcats on Friday night in their second road game to begin the season.
(Photos by Monte Calame)