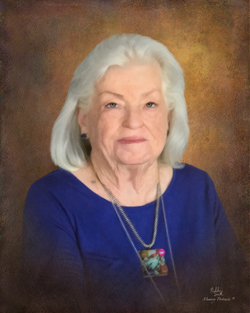 Linda Willard Baker, 77, of Streetman, passed away Thursday, February 1, 2018 in Fairfield.
Services were held 3:00 p.m. Sunday, February 4, 2018 at the Cowboy Heritage Church with Rev. Don Vail and Rev. Jimmy Cotton officiating.  Interment followed at Lake Chapel Cemetery.
Mrs. Baker was born September 4, 1940 in Teague, Texas to parents J. W. and Clara M. Pullin Grizzard.  In 1983 she moved to Freestone County from Baytown.
She was a devout and active member of Caney Baptist Church.  She married Bill Baker on May 4, 2008.  Mrs. Baker had many interests including reading, crafts, gardening, serving as family photographer, shopping, gardening, fishing and hunting.
In addition to her parents she was preceded in death by her husband Tommy Willard; and children, Marvin Willard, Jody Baker and Becky York.
Left to cherish her memory is her husband Bill; seven children, Darryl Willard and wife Michele; Cheryl Young and husband Reagan; Cristi Swinson and husband Kyle; Robin Bowling; J. P. Baker and wife Michelle; Pam Poteet; Randy Day and wife Brandy; grandchildren, D.J. Willard and wife Amy, James (Oodie) Minze, Kylie Swinson, Rylie Swinson, Austin Bowling, Taylor Board and husband Tres, Wyatt Baker, Lily Baker, Harley York, James York, Michael Poteet, Chris Poteet, Jamie Jaramillo, Misty Smith, Samantha Day, Jeffrey Parker and Brenton Parker; great-grandchildren, Makenzi Willard, Brandtly Willard, Jesse Poteet and Aaron Poteet.
To view an online obituary, send a personalized sympathy card, or leave the family a personal tribute, please visit www.cappschapel.com