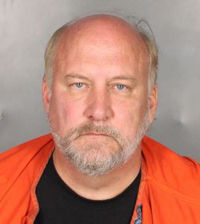 Limestone County Judge Daniel Lee Burkeen, 59, was arrested Wednesday, April 12, 2017 in McLennan County on a Class B Misdemeanor for driving while intoxicated, according to a Mart Police arrest affidavit.
Burkeen was stopped after a Mart PD officer saw the muffler of a white Chevy Impala dragging on the street as the vehicle traveled east in the 400 block of West Texas Avenue shortly after 2:00 p.m.
According to the affidavit, the officer observed the driver had slurred and slow speech; and when he was asked what the date was, he have the wrong one and explained that he had asthma.
The officer reports that initially he thought Burkeen was in medical distress; but when he spoke with him, he could smell alcohol on him.
Burkeen failed a standard field sobriety test and was arrested on suspicion of DWI, taken to McLennan County Jail, and his vehicle was impounded.
According to the affidavit, Burkeen's initial breath test measured a blood alcohol level of .112 percent. A blood sample was also taken and will be analyzed by the Texas Department of Public Safety lab.
The judge was released Wednesday night on a $1,000 bond.
He later released this statement regarding his arrest:
"I was arrested on Wednesday, April 12 for driving while intoxicated," Burkeen said. "I made a mistake and accept responsibility for it. I don't normally drink. I have suffered from asthma all my life, but it has been chronic the last several weeks. On what would have been my father's 90th birthday, I began thinking of his old home remedy, which involved whiskey, honey and lemon. I decided to try it, adding a chest decongestant to the mix, thinking it might help ease my breathing. It was obviously a mistake and was a very irresponsible act on my part, one which will not be repeated. I did not anticipate the effect it would have on me. I don't condone anyone, including myself, driving under the influence of any intoxicating substances. I am grateful to my family and friends for their prayers and continued support."