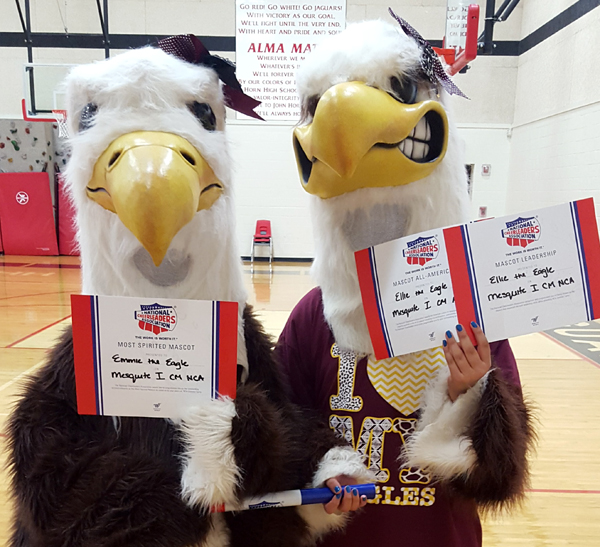 by Kathie Maciel
FJH mascots eighth grader Jordan Maciel and seventh grader Riley Ralstin recently attended a three day NCA Cheer and Mascot camp hosted by Horn High School in Mesquite.
"It is such an honor to be Emi the Eagle," Riley said. "I love her character. Once I have the suite on I am a new person."
The girls spent their camp days learning skills like pantomime, expression, crowd interaction, prop-making, and team building.
"I will remember to use pantomime," Riley said. "And I loved the decorated tables and skits that we did."
Riley was awarded the Most Spirited Mascot award and two awards of excellence. Jordan received awards of excellence, superior, and leadership and the All American Mascot award.
"Camp was amazing and full of fun," Jordan said. "The most fun thing was probably dancing and skits. My character Ellie is very bold and ready to breakdown at any moment."
Both girls together, as their camp alter-egos sisters Ellie the Eagle and Emi the Eagle, won the camp mascot spirit stick.
"I'm so glad that I don't have to do this alone," Riley said, "and that I have Jordan to help. And it was so surprising and cool to be adopted by another team."
In attendance were 14 other cheer squads and eight other mascots. Since the two mascots were attending without their squad, they were "adopted" by the Wilkinson Middle School Wildcats squad for the duration of the camp and cheered with their squad for group evaluations.
"The team that adopted us was so fun to be around," Jordan said. "I will definitely take away friendship and team spirit from the experience."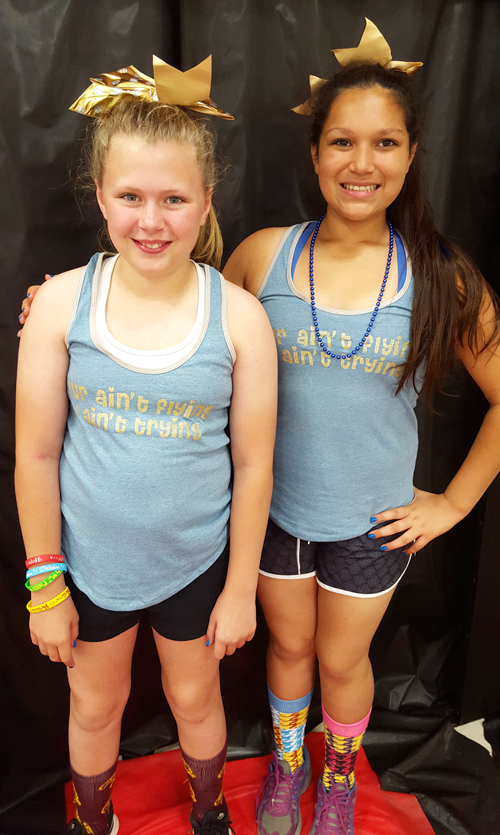 The girls designed matching spirit shirts and bows, provided by Kennedy's Korner, which they wore at camp each day.
"I'm so thankful to Riley's mom for getting us our shirts," Jordan said. "They made us our own little mini-team within the cheer squad."
The JH Eagle mascots are coached by JH cheer coach Tammy Gawryszewski. Mrs. Gawryszewski will hold an NCA camp for the JH cheer team in July.