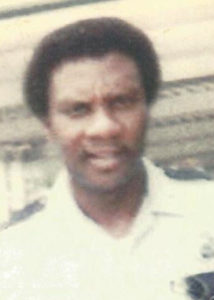 The Angelic Hosts came for Jerry Tubbs early Saturday Morning, July 15, 2017 at his residence in Kingwood, Texas among loving family and devoted friends.
Viewing and visitation were held Friday, July 21, 2017 from at the Moore's Angelic Funeral Home Chapel with the family present.
Funeral Services were held Saturday, July 22, 2017 at the Greater Providence Baptist Church, Marlin, Texas, with Reverend F. A. Green, pastor.
Reverend Clifford Jones officiated, and Reverend Durrell Ward was eulogist.
Interment, with Military Funeral Honors, took place at Peaceful Rest Cemetery, Hwy 6 in Marlin.
Jerry Tubbs was born March 17, 1951, the fourth child of Mr. Jimmy Tubbs Sr. and Mrs. Bessie Mae Tubbs.
He was reared by his father and Mrs. Lee Bertha Tubbs and Mr. Natho and Lois Gilford in Oakwood, Texas.
After graduating from Butler High School and attending East Texas State University, Jerry joined the United States Army where he served in the infantry division during the Vietnam War. He was stationed in Fort Hood, Texas and Germany.
While serving his country, he was awarded the National Defense Medal and Good Conduct Medal.  After receiving an Honorable military discharge, Jerry moved to Houston, Texas where he served the Houston community as a police officer.
He later moved to Marlin, Texas, before taking residence in Temple, Texas.
In 2004, after recovering from a coma, Jerry became known as "God's Miracle." He spent the remaining years of his life in the care of his daughter and son-in-law, Brandolyn and Clifford Jones.
In addition to traveling to visit family and friends in Marlin, Oakwood, and Buffalo, TX, Jerry loved sitting outside in the sun, while drinking very hot coffee. He also found pleasure in talking with his grandsons, watching The Jerry Springer Show, eating pig feet, listening to the O'Jays, and visiting with friends and relatives, both near and far.
On July 15, 2017, Jerry Tubbs answered his eternal summons and went home to be with God.
He is preceded in death by his father, Jimmy Tubbs, Sr., his mother, Bessie Mae Tubbs, his stepmother, LaBertha Tubbs, and one brother, Jimmy Tubbs Jr.
He leaves to cherish his memory five daughters: Dr. Brandolyn Jones of Kingwood, TX, Angela Roy of Houston, TX, Ivanette Lofton of Huntsville, TX, Irvinette Lofton of Marlin, TX and Tempestt Tubbs of Houston, TX; two sons, Winfred Tubbs of Dallas, TX and Kendrick Ellis of Palestine, TX; one devoted son-in-law, Rev. Clifford Jones of Kingwood, TX; two brothers, Donald Ray Tubbs and Mack Tubbs of Desoto, TX; wife, Jeanie Tubbs of Houston, TX; life-long friends, Sammie Lofton of Marlin, TX and Lawrence (Gail) Turner of Fairfield, TX; 10 grandchildren, and a host of nieces, nephews, and other relatives and friends.
Jerry is also cherished by his loving aunt, Mrs. Vera Jenkins of Desoto, TX and Aunt Marseille of Buffalo, TX.
Moore's Angelic Funeral Home, 406 Monroe Street, Teague, Texas is serving the Tubbs Family.
Visit mooresangelicfuneralhome.com to sign the guestbook and light a candle.