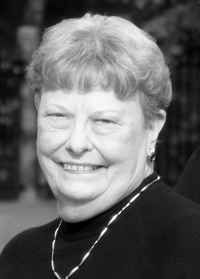 Janet Bixby Thompson passed away peacefully at home surrounded by family on April 13, 2017. A Celebration of Life will be held at 11:00 am on Saturday, April 22, 2017 at the Fairfield Conference Center, 839 E. Highway 84 in Fairfield.
Janet Thompson was born May 15, 1932 in Shellsburg, Iowa to Merl and Lucille Weir. She was the oldest of three children, with a sister Roberta and brother Gordon.
In March 1951 she married William (Bill) Ray Thompson following his completion of boot camp for the US Navy.
After Bill's discharge from the Navy, they moved back to Vinton, Iowa. Bill began technical school in Chicago, Illinois shortly after moving back to Vinton. Janet and their 2 children, Gordon Duane and Jana Rae moved back in with her parents at their farm while Bill continued his education.  During this time Janet worked as an operator at the phone company in Vinton.
Following Bill's graduation with training in Mechanical Engineering, Bill was offered a position with the former Collins Radio in Richardson, Texas.  At this time Janet began her career with Texas Instruments.  Bill and Janet had 2 more children, Lorraine (Lori) Marie and Arthur (art) Merl.  Bill and Janet raised their family and lived in the Richardson/Plano area until their retirement.
As a couple, they were very active in square dancing and bridge, making many lifelong friends.
The children married and began their own families: Duane and Karen Thompson, Greg and Jana Miller, Tim and Lori January, and Art Thompson.
Following Bill and Janet's retirement, they fulfilled their dream of moving to the country.  Bill and Janet built a home on 10 acres in Fairfield, Texas.  The adjoining acreage was purchased and homes were built for Janet's parents, Merl and Lucille Weir, as well Janet's brother and his wife, Gordon and Jeannie Weir.  With all the family now in Texas, it was not long before Janet's sister Bobby Jo and her husband Loren with their son Chad left the cold and snow in Iowa and joined the family in Fairfield.
Bill and Janet became very involved community members in the Fairfield area, with the majority of their time dedicated to the Butler Volunteer Fire Department.  Bill passed away on December 16, 2010.  Janet lived in their family home until 2015 when she moved to Midlothian, Texas to live with her daughter Jana and son-in-law Greg Miller.
Bill and Janet were blessed with 6 grandchildren: Amy Kathleen Thompson (deceased), Aaron William Rogers & wife April, Sarah Marie Rogers, Sean Michael January, Cody Patrick January and Brett William Thompson.  Janet was blessed to meet and spend a great deal of her time with great grandson Ethan William Rogers following her move to Midlothian.
In lieu of flowers, donations may be made to the American Cancer Society or as Janet would prefer, send flowers to a loved one.