Anime Improv, pixel art, film editing, and cosplay are just a few many exciting activities offered at this year's Iigurubando Con in the small town of Fairfield, Texas.
Iigurubando Con, pronounced E-goo-roo-bawn-doe, is a one-day fundraising event in Fairfield, Texas.  All proceeds from the Con will be used to support Fairfield High School's Grand Band from Eagle Land.
Featured are artists, writers, video games and Cosplayers and everything "Geek."
Returning this year is Fairfield's own Tori Martin (see bio below), of Funimation, who will do a panel on film editing.
Discussing being a 5th grade teacher and a comic creator in Dallas is Hector Rodriguez, creator of the El Peso Hero comic and co-creator of the first ever Texas Latino Comic Con.
Also featured is Take One Productions (see bio below), who will perform two improv panels including audience participations.
Lisa Miller of Songbird Beauty will demonstrate pixel art.
An air-brush art presentation will be provided by Raymond Casteel.
To top it all off, Shouff! Studios will be returning to do a panel on drawing art.
Iigurubando Con will be set up like a big "Con," but with a Hometown feel. The Con will run from 10:00 a.m. to 5:00 p.m. on Saturday, January 27, 2017.  Doors open at 9 a.m. and entry is $20 per person; donations are always appreciated.
The con is expanding this year. There will be an area for board game & card game demos and art demos, as well as the usual video gaming area and anime viewing area. The main panel room will be in the primary large band hall.
This year the con will be teaming up with Mr. Wright, drama teacher at Fairfield High School, and his students will be very much involved.
---
Tori Martin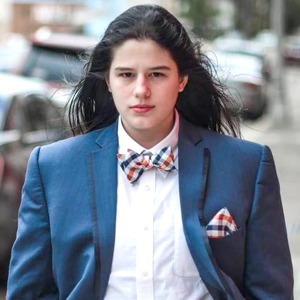 Tori Martin is a filmmaker currently residing in the DFW area. She is a former member of the Grand Band from Eagle Land, graduating from FHS in 2013
After high school, she moved to Orlando, Florida to attend college. In May 2015, she graduated with a Bachelor's Degree in Film Production as class Valedictorian.
Since moving back to Texas in September 2015, Tori has been employed full-time at Funimation as a Digital Video Compressionist. She worked with several major titles, including One Piece, Fullmetal Alchemist, Attack on Titan, My Hero Academia, and Dragon Ball Super.
In her free time, Tori collaborates with friends on independent short films as an editor. Two of the short films she edited, "Watcher" and "Don't  Drink the Water," have won multiple awards at various film festivals throughout North America. She is currently wrapping up post production on two other short films, "May I Have This Dance?" and "OK," which will soon begin festival runs and show promise of performing very well.
---
Take One Productions
Take One Productions was created in 2007 when Cory J. Philips refused to stop improvising just because school was ending.
Since then, Cory has continuously developed and recruited his team based, not only on talent, but also on passion, interests, and pursuits; building more than just a troupe of funny, skilled improvisers, he also created a community of collaborators eager to work on one another's projects instead of focusing solely on individual accomplishments.
Whether the project is a Doctor Who fan series, improvised anime dubs, sketch comedies based on video game series, or even a feature-length film, Take One Productions is intent on making dreams and creative ideas a reality.
Still, at its core, Take One is an improv troupe. Though well-versed in both short and long form improvisation, they have focused on developing a new and dynamic short-form show featuring unique and energetic games that seek to find the funny in fandom.
It's like watching 'Whose Line Is It Anyway?,' but if the cast was made up of your favorite video game characters, an obscure anime, and a bunch of pop culture references, all hosted by a meme.
Take One players quickly make each show a celebration of weirdness and absurdity with audience-engaging games, and extensive nerd-knowledge.
It is this type of diverse and frenetic play that has allowed Take One Productions to grow from doing free local shows to being booked to packed rooms at conventions nationwide, as well as foster a loyal fan base that is as enthusiastic and quirky as the members themselves.