The Horse Racing world gathered at Retama Park Racetrack in San Antonio to celebrate the Texas Horse Racing Hall of Fame's newest inductees on October 21, 2017.
Among those honored was lifelong pioneer Quarter Horse and Thoroughbred breeder, O.C. "Preacher" O'Quinn, who has family ties in Freestone County.
Proudly accepting the award, on O'Quinn's behalf, were his children, Dr. Bob O'Quinn, Danny O'Quinn, and Debbie O'Quinn Eubanks.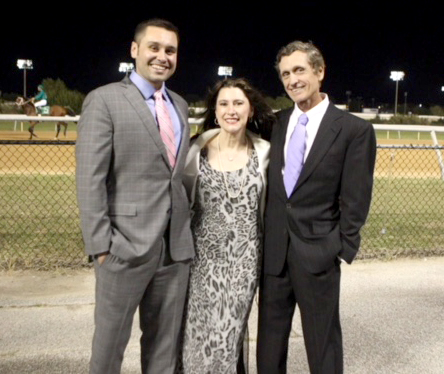 Debbie, husband Herb Eubanks III, and son, Herbert Eubanks IV (pictured at left) are members of the longtime Freestone County family. Herbert's great-grandfather is the late Dr. Byron York, Sr.
Preacher O'Quinn, originally from Louisiana, worked as a roughneck and got the nickname from his co-workers because he never cursed, smoked, or drank and was known to be a very moral and stern man.
After moving to the Houston area, Preacher devoted his life to his horses and raised many great runners.
He was in the horse business before the American Quarter Horse Association was formed in 1940; and owned the second horse ever registered with the association, prominent sire, Rialto.
Some of the runners' sires include the great King, Three Bars, Depth Charge, Go Man Go and Easy Jet.
His runners included the multi-record setting, AQHA 1953 World Champion; two-year-old colt, Super Charge; and the great Miss Bar Leo (Pictured in front at top of page) that set the mare world record, two-year-old filly record at 350 yards, two-year-old-filly record at 300 yards and equaled the world record, the mare record and the filly record at 350 yards.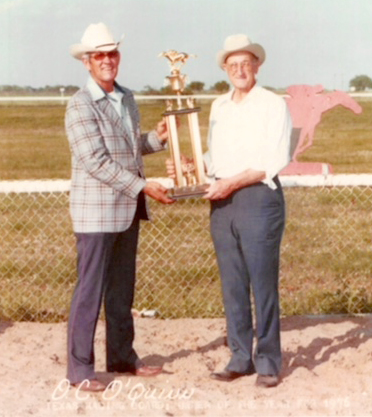 Preacher (on right in photo to left) was one of the first breeders to achieve success crossing his Quarter Horse mares with Thoroughbreds, and he was relentless in pursuing the best sires. His horses were fast, beautiful and versatile.
This Quarter Horse versatility showed itself, when England's Prince Phillip acquired a filly as his polo pony.
Preacher was greatly loved by the horse community. His greatest desire was to be friends with everyone, and to show others that there were honest people in the horse business.
Throughout the years, pari-mutuel horse racing had a bumpy history, being voted out in 1937. It was not until 1977, fifty years later, that it was reinstated.
Preacher was an ardent supporter and is credited by many for the return of pari-mutuel horse racing to Texas. His beautiful horses brought great interest to Quarter Horses and racing in Texas.
He influenced many people by bringing credibility and honesty to the horse racing industry at a time when it needed it the most. His horses were renowned for their speed and beauty.
Preacher was renowned for his humility. Herbert, his grandson, remembers how his grandfather worked at a gas station for a dollar a day during the depression and always said, "I was one of the lucky ones, because I had a job." He was an eternal optimist that never feared work.
He was recognized as the Texas Racing Board's Owner of the Year in 1976. And, in 2001, he posthumously received the Fifty Year Breeder's Award from the American Quarter Horse Association.
Preacher passed away in 2000, at the age of 91.