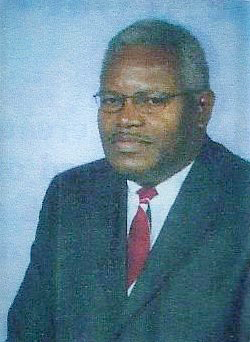 The Angelic Hosts came for Homer Ray Brown on Sunday Morning, October 29, 2017 at his residence in Houston, among loving family and devoted friends.
Viewing was Friday, November 3, 2017 in the Moore's Angelic Funeral Chapel.
Funeral Services were held Saturday, November 4, 2017 at the Holman Street Baptist Church, in Houston, Texas under the direction of Moore's Angelic Funeral Home, Teague, Texas.
Rev. Roderick Cunningham, pastor of New Jerusalem Baptist Church, Dickinson, Texas officiated.
Interment was in the Avant Cemetery, FCR 661, Teague, Texas.
On January 31, 1949, a 5th son and 7th child was born to Nathaniel and Callie Henderson Brown of Teague, Texas. He would be named Homer Ray. He was a pride and joy of the family and like his 6 siblings he developed an early interest in learning, influenced mainly by his father.
Homer accepted Jesus at an early age and united with Jerusalem Baptist Church of Teague, Texas.
He received his elementary and secondary education in the Teague public schools and graduated from Teague High School after spending three years at Booker T. Washington High School, also in the Teague public school system. Homer excelled in academics receiving honors and in athletics as a member of the 440 yard relay team that won the class 2A state championship in 1967.
It was at Booker T. that he met a young lady named Dena Cunningham who would become his wife for 50 years. Two children were born to Homer and Dena.
Homer chose to attend Prairie View A and M University for his college education and earned a bachelor's degree with honors in Mathematics in May 1971.
He began his professional career in Information Technology with General Electric Corporation at the National Aeronautics and Space Administration (NASA) in Houston, Texas where the Browns resided for 46 plus years. Following several years with GE, Homer joined the oil industry, first with Schlumberger and later with other companies.
Homer was multi-talented and had many accomplishments during his lifetime. Perhaps his most cherished was in doing things that benefited others.
He served a maximum number of consecutive terms as national president of the Booker T. Washington/J.A. Brooks (BTW/JAB) Alumni Association and was instrumental in the establishment of an education club that provides scholarships to college students that graduate from Teague High School as well as college students who are descendents of BTW/JAB alumni.
Homer was a member of the Holmes Street Baptist Church and served as a Deacon for several years. At the time of his passing, he was serving as Chairman of Deacons at the New Jerusalem Baptist Church in Dickinson, Texas.
Homer was preceded in death by his parents, his son Derek Brown, his brother Billy Brown and his sister Gloria Brown Dixon.
Those left to cherish his memory are his wife Dena, daughter Natalie McGensey (Bobby), granddaughter Karington Elise, brothers Nathaniel Brown, Jr of Dallas, George Brown (Dorothy) of Kansas City, Mo, Harold Brown (Ann) of Winston-Salem, NC, sister Carolyn Brown Milton (Percell) of Corsicana, Texas and a host of nieces, nephews, cousins and friends.
Moore's Angelic Funeral Home of Teague, Texas conducted funeral arrangements.