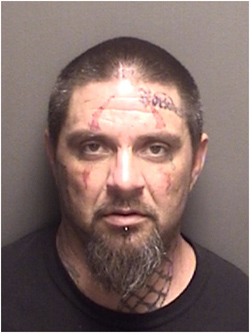 A confession and arrest has been made in the destruction of tombstones at the historic Bonner Cemetery, located in the northern part of the county.
Freestone County man, Keith Floyd Bonner, 36 (pictured at left), gave a confession to Lieutenant Clayton Aldrich of the Freestone County Sheriff's Office regarding his actions pertaining to the October 26th incident.
According to court records, Bonner went to the Cemetery that night, while under the influence, and damaged his own headstone, and that of his deceased wife, as well as his own grandmother's headstone. The grandmother's foot stone was found on the outside of the cemetery fence.
Damage was also observed to headstones dating back to the Civil War era.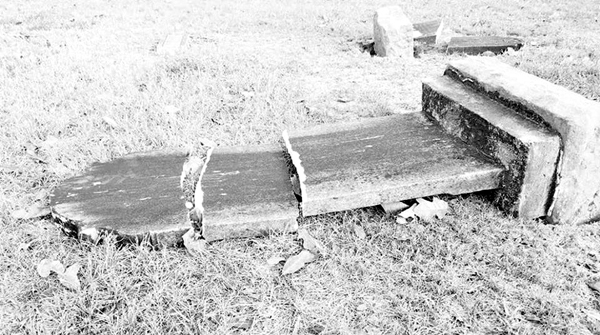 Later that evening, Bonner was picked up by Fairfield EMS from a residence on North 75. A report from the responding EMT states that Bonner claims he had been drinking all day and was suicidal. He had superficial scratches on his hands and wrists.
A nurse from the ER explains that Bonner was very dirty and intoxicated. He was held for observation over night.
The following day, Freestone County Sheriff's Office Deputy J. Steele took Bonner to Cedar Crest Hospital in Belton for a Psychiatric Emergency; and states that Bonner could hardly walk, could not sign his own name due to hand injuries, and was complaining of his hands and side hurting.
Deputy Jack Wright, the officer called to the scene on the initial report of damage, found a pack of cigarettes and ten empty beer cans in the cemetery, most of which were located in the area of Bonner's and his wife's markers.
Bonner was picked up at Cedar Crest hospital by Freestone County Sheriff's Office and was booked into the county jail on November 10th.
Bonner was charged with Criminal Mischief between $2,500 and $30,000 and given a $15,000 bail.
All tombstone damage has been restored, and was completed by Dietz Company of Waco. Cost for repair was around $3,000 and covered by the cemetery association fund, with the help of additional donations.
Members of the Bonner family are very pleased with the work and professionalism of Dietz Company.