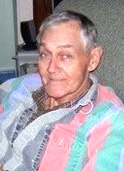 George Green, Jr. 87, of Fairfield, died Monday, May 8, 2017 in Tyler. Funeral services were held 2:00 p.m. Wednesday, May 10, 2017 at Capps Memorial Chapel with Pastor Harry Moore and Pastor Thom Taylor officiating. Graveside services were held 3:00 p.m. Thursday, May 11, 2017 at Beulah Cemetery near Fiske Union, Louisiana.
Mr. Green was born February 4, 1930 in Jasper County, Mississippi to parents George Edward and Irma McDonald Green. A Freestone County resident for over 30 years he served in the U.S. Air Force and was a retired painter and sand blaster. He married Sarah Poteet in May of 2012. He was a member of New Life Assembly of God and VFW Post 5872 in Fairfield. In addition to his parents he was preceded in death by a son, George Eugene Green in 2004.
Left to cherish his memory is his wife Sarah of Fairfield; three children, Mary Cecile Williams of Oak Grove, LA; Sherry Green Bougeois of Thibodaux, LA; Michael Green and wife Lori of Crestview, FL; two sisters, Doris White of Benton, AR; Sylvia Johnson of Monroe, LA; 10 grandchildren and 10 great-grandchildren.
To view an online obituary, send a personalized sympathy card, or leave the family a personal tribute, please visit our website at www.cappschapel.com