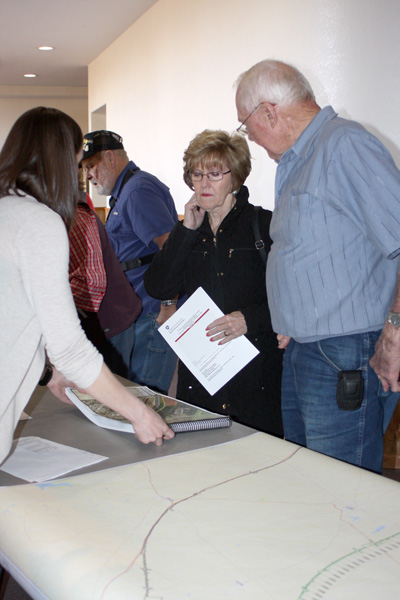 High-Speed Rail in Freestone County, are you for or against?
According to the majority at a recent public hearing, the answer for Freestone County is a resounding "AGAINST!"
At the hearing, held Wednesday, January 31, 2018, U.S. Department of Transportation Federal Railroad Administration (FRA) representatives Marlys Osterhues and Michael Johnsen were on hand to listen to public feedback regarding the recent release of the Draft Environmental Impact Statement for Texas Central's proposed Dallas To Houston High-Speed Rail.
This particular meeting was not set up as a question and answer session, but rather as a means for the FRA to gather and record statements and concerns regarding the findings of the report.
Approximately 125 people attended to voice their concerns.
Twenty-two people chose to make a statement in 3-minute time slots. Of those, eight are candidates in either local or state elections; five were current county officials; and nine were members of the public, some of whose properties will be directly affected by the train.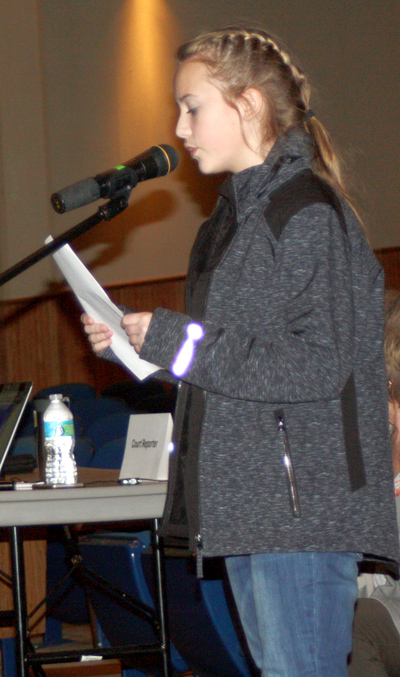 Perhaps the most heart-wrenching speech was given by 12-year-old Morgan Whitesides from Madisonville, who explained the need for an emotional and psychological study.
"I'm an army kid who has lived in a lot of places," says Morgan. "Our family was finally able to settle down in one location and we chose Texas. We love it here."
She continues, "But even with the emotional ups and downs of never knowing when or if my daddy would return from deployment, it is nothing compared to the constant high levels of emotions not knowing if we are going to have to pack up and leave our home."
"Anytime something new comes out about this high-speed rail, we lose quality family time and the stress begins again as my parents go into research mode," she concludes. "What will happen to my family, and extended family of animals, if we have to up and move?"
Morgan's mother, Michaelle Whitesides, echoed her daughter, saying "We chose to live here and we should be able to stay."
Freestone County resident, Charles Pickett, owns a small ranch and says that the proposed rail line will be running right through the middle of his property.
"It's been horrible dealing with Texas Central. They are rude, liars, and thieves," Pickett says. "They only offered me $15,000 for my property, which is worth much more than that! I'll have to sell off at least half of my cattle herd in order to support my family. They will be land locking me to the back of my property and their only offer was an easement."
He concludes, "And somehow they got on my property to obtain a soil sample. I was never notified about this happening, but they tell me one was obtained for testing. That's trespassing!"
Others speaking out AGAINST the high-speed rail include:
–Thomas McNutt (Republican candidate for District 8 of the Texas House of Representatives)
–Becky & Ronnie Skasta (Property owners)
–Joe Fauth (Grimes County Judge)
–Peter Churchman (Libertarian candidate for Texas 17th Congressional District)
–Linda Jarvis (Current Freestone County Clerk – Up for Reelection)
–Rheagan Reed (Houston Correspondent for Empower Texans)
–Brian Evans (Current Freestone County District Attorney)
–Linda Timmerman (Republican candidate for District 8 of the Texas House of Representatives)
–William Shelton (Family homestead since 1847 would be destroyed)
–Jeremy Shipley (Freestone County Sheriff)
–Clyde Ridge (Freestone County Commissioner, Pct. 4)
–Cody Harris (Republican candidate for District 8 of the Texas House of Representatives)
–Ken Cope (Republican candidate for Texas 6th Congressional District)
–Melody Eubanks (3rd Generation Ranches in Freestone County
–Mike Daniels (Freestone County Commissioner, Pct. 3)
–Jeff Duncan (Leon County property owner)
–Charles Morgan (Freestone County resident)
–Jeannie Keeney (Candidate for Freestone County Treasurer)
Concerns presented at this meeting include following issues:
–Little to no economic benefit to Freestone County
–Deterioration of Family heritage and the country way of life
–Decrease in property values with increase in taxes increase to pay for a failing railway
–Harassment of property owners for their land with no legal Eminent Domain
–No transportation benefit for Freestone County residents
–Politicians in favor of the project only support it for personal financial gain
Regional Vice President of External Affairs for Texas Central, David Hagy, explains, "It's so hard to be at these meetings and not be allowed to respond to the public's concerns. It would make it so much easier if we could, that way we would be able to help ease some of their fears."
To view the 5,600 page Environmental Impact Statement, find quick facts on the company and the project, and view route maps, visit www.texascentral.com.
Comments will continue to be accepted through March 9, 2018. You may submit your comments online at www.fra.dot.gov/Page/P0779 or by emailing to DallasHoustonHSR@urs.com.
If you, too, are against the High-Speed Rail and want to know what you can do to help fight it, visit Texans Against High-Speed Rail online at www.texansagainsthsr.com.