This article has been updated to reflect changes to donation locations and such.  For the most up-to-date info, check out the FREECO Disaster Relief Volunteer Group on Facebook.
The folks of Freestone County have been very busy, in the wake of Hurricane Harvey and the massive flooding in Houston, Texas.
In addition to first responders traveling south for rescue efforts, those still at home have been quietly mobilizing to assist evacuees in their travels north to safety.
In an effort to coordinate those efforts, a call went out earlier today to hotels, churches, organizations, businesses and individuals to meet and share their plans for meeting the needs of the evacuees.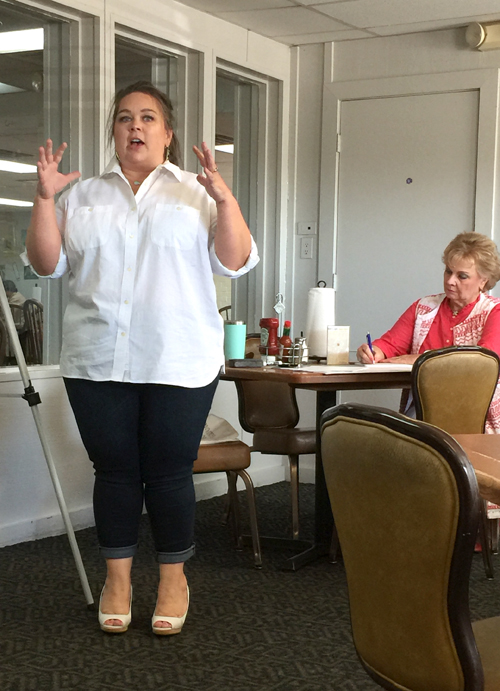 "We just wanted to get everyone under one roof," says Nicole Hughes, who organized the meeting.
Having recently traveled to Dallas to deliver donated supplies to one of the shelters, Hughes asked what more her community could do to help.  They asked her two questions:
–What are you doing now?
–How are you organizing it?
Thus, FREECO Disaster Relief Volunteer Group was born.
The main goal is to give solid information to evacuees, along with needed food, gas and other items.
As everyone shared what they were currently doing, a calendar was created.  With the help of several churches and organizations, meals for the evacuees have been scheduled for each day, through the first week of September.
The biggest need, it was decided, are gas cards, preferably in $20 amounts.
"There are three mega shelters set up in Dallas," stated Sheriff Jeremy Shipley.  "They have doctors, nurses, food, drinks – everything they need."
Sheriff Shipley explained that the shelters were the best place for them, as they have the resources available for whatever the evacuees need, as well information on applying for assistance.
At rough count, over 700 evacuees are housed in Freestone County on any given day.  According to hotel owners, most of their guests stay for only a night or two, on their way to stay with family or to get to a shelter in Dallas.
So, how can citizens of Freestone County help?
–First, contact Nicole Hughes at 903-879-4545 and let her know what your group is doing.  A flier is being put together to give to evacuees so that they know what help is available to them.
–Note that donations for evacuees will be housed in specific places in Fairfield:
Clothing will be available at the La Quinta conference room (as of Thursday, clothing donations are NOT needed at this time).
Toiletries, food and other items will be housed at the Holiday Inn conference room.
Monetary donations and fuel cards may be taken to First United Methodist Church in Fairfield.
Fairfield Chamber of Commerce is collecting $20 fuel cards, as well as charcoal, lighter fluid and non-perishables for evacuees staying a Fairfield Lake State Park.
–Sign up to volunteer (two hours at a time) at one to the hotel conference centers, beginning tomorrow morning.  The goal is to have these "hubs" open 24/7 in order to assist evacuees with items they need.
"This is what makes our county great!" declared Sheriff Jeremy Shipley, as the meeting drew to a close.
  The group will meet again on Friday, September 1, 2017 beginning at 4:00 p.m. at Sam's Original Restaurant in Fairfield, Texas.  Everyone who would like to help is invited to attend.
For more information, call or text Nicole Hughes at 903-879-4545.
Facebook users are invited to join the group FREECO Disaster Relief Volunteer Group for event updates and volunteer opportunities.
A few things of note:
For groups wanting to provide free meals, but do not have facilities, the City of Fairfield is offering use of the Conference Center and/or Green Barn.
River of Life Food Pantry has several thousand pounds of chicken deliver, if a group would like to handle the cooking.  Call Pastor Robert Smith at 254-760-7640 or the church office at 903-389-5433.
Harvey Helpers are being mobilized with BBQ pits to make, and take, hot meals to the North Houston area.  For information, contact Shannon Margraves at 903-519-3414.
Freestone County 4-H members will have a table set up at Eagle Field during the Varsity football game on Friday, September 1st to accept donations.  Fuel cards and monetary donations may also be dropped off at the Extension Office.
Some overlooked donations items include adult diapers and bed pads for the elderly.  Evacuees staying at Fairfield Lake State Park need such things as charcoal for cooking and ice to keep food fresh.