"J.R. has selflessly served our hospital and community for many, many years, and has mentored me on this board for the duration of my time," says Board President George Robinson. "His presence has encouraged the continued good care provided to our citizens as well as they growth of our facility. He will be greatly missed. I am pleased that we can honor him with the dedication of a small part of our facility."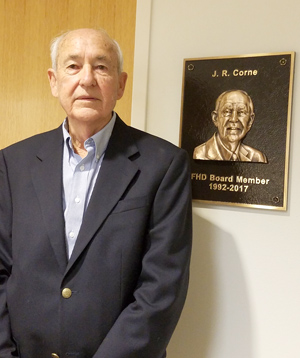 On Thursday, January 25, 2018, FMC honored Corne at a private ceremony where the Board officially recognized Corne for his 25 years of dedication; and revealed his name plate and bronze portrait that will forever identify the boardroom with his name.
During his tenure with the Fairfield Hospital District, Corne has been involved in many hospital improvements, including last year's very careful transition of hospital operations to the District, and to subsequent management by Community Hospital Consulting.
Corne is a graduate of Palestine High School; and attended Nixon's business College in Palestine. He worked for the Missouri Pacific Railroad in Houston and Palestine; and traveled throughout Texas and Louisiana from 1948 to 1962.
He then moved to Dallas where he worked for the Dr. Pepper Company until 1974, serving at various times as Co-op Advertising Manager, Assistant Purchasing Manager, and Administrative Assistant.
He served as a deputy sheriff for the Dallas County Sheriff's Office for a number of years, and then became owner and operator of B&A Security, Inc., in Corsicana, from 1982 to 2000, before becoming fully retired.
FAIRFIELD HOSPITAL DISTRICT BOARD honors retiring long-term member, Mr. J.R. Corne, by naming the boardroom after him at a ceremony held Thursday, January 25, 2018. Present for the ceremony were (l-r) Interim CEO Ron Hunt, Administrator Tony Price, Member Jeff Taylor, President George Robinson, Mr. J.R. Corne, Member Kevin Benedict, Member Andy Awalt, and Member David Lott.
(Photos by Nicole Schaefer)