For one Fairfield family, 2017 ended in flames when their home caught fire on New Year's Eve.
At about 9:00 p.m. that evening, a call was received at 911 dispatch reporting a single story home on fire on North Fairway (Highway 75).
Fairfield Volunteer Fire Department responded with automatic aid from Teague Volunteer Fire Department.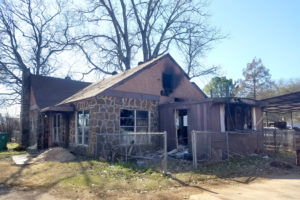 Upon arrive to the scene, firefighters found heavy fire venting on the North side of the home. Bobby Harris and Avery Aultman made a quick, aggressive attack on the fire, which saved 90% of the home from burning and kept fire damage to a minimum.
The official cause of the fire remains undetermined; but it is suspected the fire was caused by a space heater.
The occupants were not home at the time of the fire; and no injuries were reported.
Fairfield EMS and Fairfield Police Department also responded to the scene.