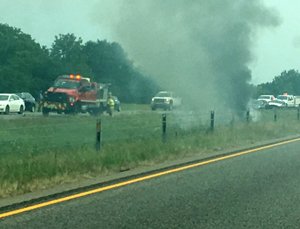 Rescue crews responded to a vehicle fire on I-45 near Dew on Friday afternoon, June 9, 2017 around 4:30 p.m.
The two-vehicle wreck in the northbound lane at the 192/193 mile marker resulted in minimal damage to one vehicle, while the other went into the median and caught fire.
When Dew Fire Department arrived, the driver was out of the vehicle; and no injuries were reported.
Using their new brush truck, Dew firemen extinguished the fire.
Fairfield Fire Department responded as mutual aid.
(Photos submitted)