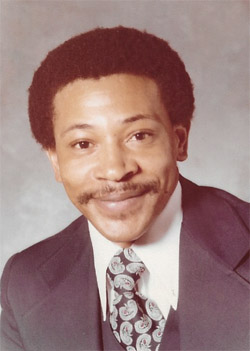 Services for Mr. Farley Loniel Fite, 67 of Mexia, were held on Saturday, January 2, 2018 at Northcrest Church of Christ with Rev. Alfredo Henderson of Allen Chapel A.M.E. Church of Coolidge, Texas officiating.
Burial will follow at Brown-McGee Cemetery in Coolidge, Texas under the special care of Moore's Angelic Funeral Home of Teague, Texas. Mr Fite went home to be with the Lord on Sunday, January 14, 2018 after a brief illness.
Mr. Fite was born January 6, 1951 in Longview, Texas (Gregg County) to Ladell Fite and Anna Lee Williams Fite. His grandparents were Earlie and Laura Speed Fite, and Perry and Alluter Jones Williams.
At an early age, he united with Growing Valley Baptist Church Longview, Texas under the leadership of the late Rev. R.B. Bradley.
As a child, Mr. Fite attended the Gregg County schools of Janie Daniel Elementary and Maggie B. Hudson Junior High. He graduated from Mary C. Womack High School in 1969.
On July15, 1969, he joined the United States Air Force ranking as a Staff Sergeant and serving his country from 1969 to 1973. He completed basic training at Lackland Air Force Base in San Antonio, Texas.
During his military career, he was assigned to Kessler Air Force Base in Biloxi, Mississippi.; Elmendorf Air Force Base in Anchorage, Alaska; Mather Air Force Base in Sacramento, California; Anderson Air Force Base in Guam, Philippines, and again on December 23, 1972, Mather Air Force Base.
This tour of duty ended July 15, 1973 with an honorable discharge. He served in the Texas National Guard Reserves from 1975 to 1977.
Mr. Fite attended Paul Quinn College in Waco, Texas from 1974 to 1977. He graduated July 17, 1977 earning a Bachelor of Science (B.S.) Degree in Elementary Education.
On August 11, 1981, Mr. Fite earned a Master of Science (M.S.) Degree in Elementary Education from Prairie View A&M University in Hempstead, Texas.
His affiliations included serving as president of the Gamma Kappa Chapter of Phi Beta Sigma Fraternity during his college years. He also was a captain of the Paul Quinn College track team. He was a member of the National Education Association N.E.A.) and Texas State Teachers Association (T.S.T.A.).
He was a teacher in the Mexia Independent School District for twenty-seven years (1977-2004). Mr. Fite was also a member and trustee of Allen Chapel A.M.E. Church in Coolidge, Texas.
On Saturday, July 23, 1977, Mr. Fite was married to the love of his life, Lillian Henderson (Fite) in Coolidge, Texas by Associate Pastor Rev Richmond Stoglin of Carver Park Baptist Church of Waco, Texas.
To this marriage, three children were born. This marriage has lasted for forty years.
Those preceding him in death include his parents and grandparents, one brother, Ladell Fite, II; his aunts, Perryline Williams Fite, Laura Mae Williams Fite; his uncles, Horace Fite and Marcellas Fite; one angel, and mother-in-law Mrs. Lillie Jane Henderson who joined him  a few days later.
Mr. Fite leaves to cherish his memories a very special, devoted and loving wife, Mrs. Lillian Fite. Three wonderful children, a daughter, Dr. Tamber LaShaia Fite, and two sons, Farley Loniel Fite, II and Ryan James Fite.
His sisters include Nelwyn Palmer and husband Harold of Longview, Texas; Evangelist Gaye Lois Thomas, Evangelist Annette Summers, both of Dallas, Texas; Patricia Ann Brown and Janice Rice and husband Elbert both of Queens, New York.
His brothers include Michael Fite and wife Vallie of Longview, Texas; David Fite of Miami, Florida; Jeffrey Fite and wife Norma of Queens, New York and Wendell Fite and wife Dawn of Atlanta, Georgia.
His special aunts include Dorothy Mae Williams Bell of Longview, Texas and Zelma L. Collins of San Diego, California. He also leaves numerous nieces, nephews, cousins, friends and family to cherish his memory.
Moore's Angelic Funeral Home, 406 Monroe Street, Teague, Texas is serving the Fite Family. Visit our website:   mooresangelicfuneralhome.com  to sign the guest book and light a candle.