by Allie Robinson, EGLZ News
Last Spring, Mrs. Gawryszewski discussed with FISD administration about teaching a class that would produce a weekly broadcast for school and the community.
Realizing that if she wanted to make this class more than just an idea, she went to work, searching for someone who could help her class get started. She contacted about 15 news stations across Texas, and was disappointed when most did not respond.
Then, KWTX News 10 out of Waco responded. She spent several weeks communicating with Larry Brown (chief engineer) and Jason Raddin (Tech Operations Manager) through email and phone conferences.
Larry and Jason talked and explained what exactly Mrs. G would need in order to start her class, and helped her come up with an equipment list for the soon-to-be studio.
The FISD administration, along with fundraising, paid for the equipment.
Months later, the studio was up and running. FJH officially had a Digital Media class. In August, Mrs. G contacted KWTX once again, this time asking if our class could visit their studio for a tour. KWTX remembered helping us and excitedly scheduled a date for FJH Digital Media class to come.
While waiting for the tour to come around, the Digital Media class was busy preparing for their weekly broadcast. Then, at the end of December, Mrs. G discovered the Follett Challenge.
Once discovered, the FJH Digital Media class knew they wanted to compete in the Follett Challenge. The class worked together in order to submit their project in the contest.
FJH submitted a five-minute video along with six essays explaining the project. On January 22- 26, the Follett Challenge opened up voting for the video of your choice.
One person could vote one time per day for five days. Votes for the video are 20% of the overall score, while content is 80%.
FJH spread the news to the community about going to vote for their video in the Follett Challenge.
The Follett Challenge is a worldwide competition to promote innovative ways schools are affecting student's ability to become college ready.
Schools' participate, hoping to win one of 13 prizes that will be awarded to the most influencing K-12 program that catches the Judges' eye.
Three semi-finalists (one elementary winner, one middle school winner, and one high school winner) will collect $30,000 for winning their division. The Judges will then select a winner from the Semi-Finalists to receive an additional $30,000.
The judges are looking for an innovative program that enhances students' communication, creativity, collaboration, and critical thinking. Programs that focus on teaching students' media and technology of the 21st century are most likely to succeed in the challenge.
January 23, 2018 rolled around, and Digital Media students, along with Mrs. G headed to KWTX for their field trip. At 10:30 AM, the class met with Valerie Parker, the tour guide.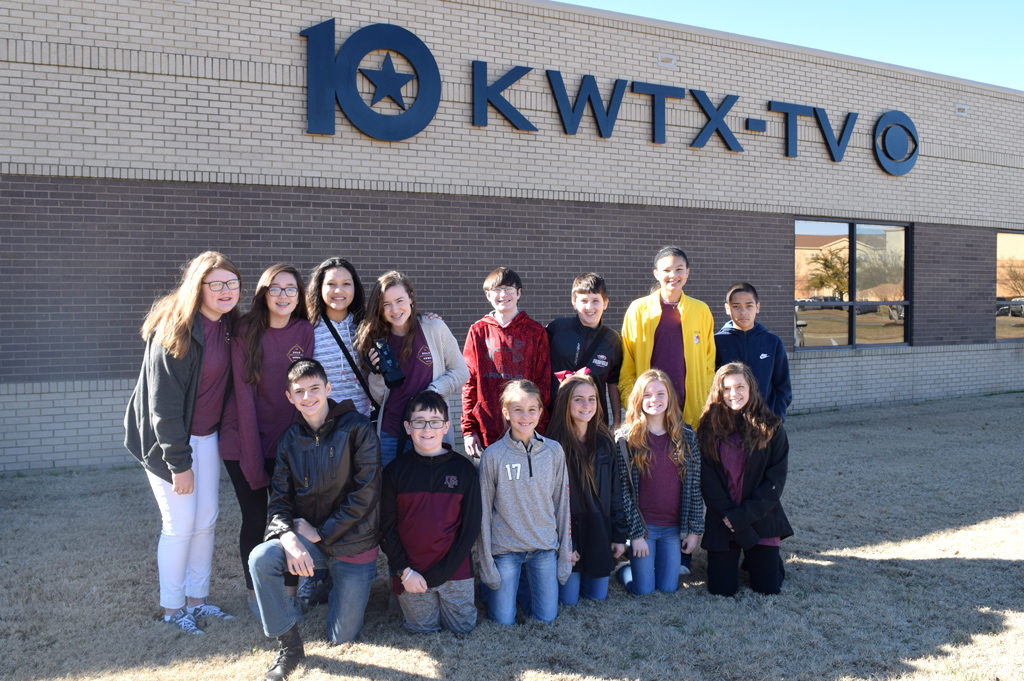 The class wandered the different departments of the News Station. They learned tips and tricks from the managers of each department.
Advice of how to use professional software, Adobe Premiere, Character Animator, and Green Screen effects were given to the class.
FJH also realized that they use the same Adobe Creative Cloud software that KWTX uses (Premiere Pro, After Effects, Photoshop, and Illustrator).
KWTX was impressed at how well-behaved and knowledgeable FJH's students were, and decided to do a segment over FJH's Digital Media class and their video in the Follett Challenge, to be broadcasted in KWTX's news.
Rhyan Henson, the reporter over FJH's story, videoed the whole time the class toured the News Station.
He pulled Mrs. G, Jordan Maciel, and Ally Robinson, out of the group to do individual interviews about the class and the Follett Challenge. Rhyan then put together an informational video to air on Friday, January 26, 2018 of FJH's News class.
A recording of the KWTX broadcast is on EGLZ news' YouTube channel, which can be found on the FJH webpage.
The Digital Media class had a great time on their field trip, and learned a great deal from KWTX. They hope to visit them again next year.
On February, 28, 2018, the Follett Challenge will announce the Semi Finalists ($30,000) and the Ten People's Choice winners ($8,000).
The Grand Prize winner will be announced April 27, 2018.
While anxiously waiting for the results of the challenge, FJH Digital Media students are working hard to use all the current skills they have learned to create the best possible broadcast for their school and community.