The Fairfield Eagles could not overcome six turnovers and lost their first district game of the season on the road at Blackcat Field where Mexia won 19-14.
The loss keeps Fairfield in the top seed in District 9-4A Division II playoff race even though they are tied with the Salado Eagles at 3-1. Mexia, Conally and Lorena are tied for third and if the season ended today, the Lorena Leopards would miss the postseason.
The Eagles had the ball first but quarterback Cody Rushin was intercepted in the end zone and the Blackcats took over.
Fairfield forced a punt and the Eagles made better work of the next drive. Kadarius Walker took the handoff and he maneuvered through the Blackcat defense for a 53-yard touchdown run to take the 7-0 lead with 7:48 remaining in the first quarter.
Mexia would answer with 3:13 remaining in the quarter. Quarterback Travion Carter connected with Daveon Carter on a 24-yard touchdown pass and Ortiz tied the game with the point after.
The game would remain tied until the half. Rushin was picked off two more times in the second quarter for a total of three turnovers. Mexia added two turnovers, both interceptions for a sloppy half for both teams.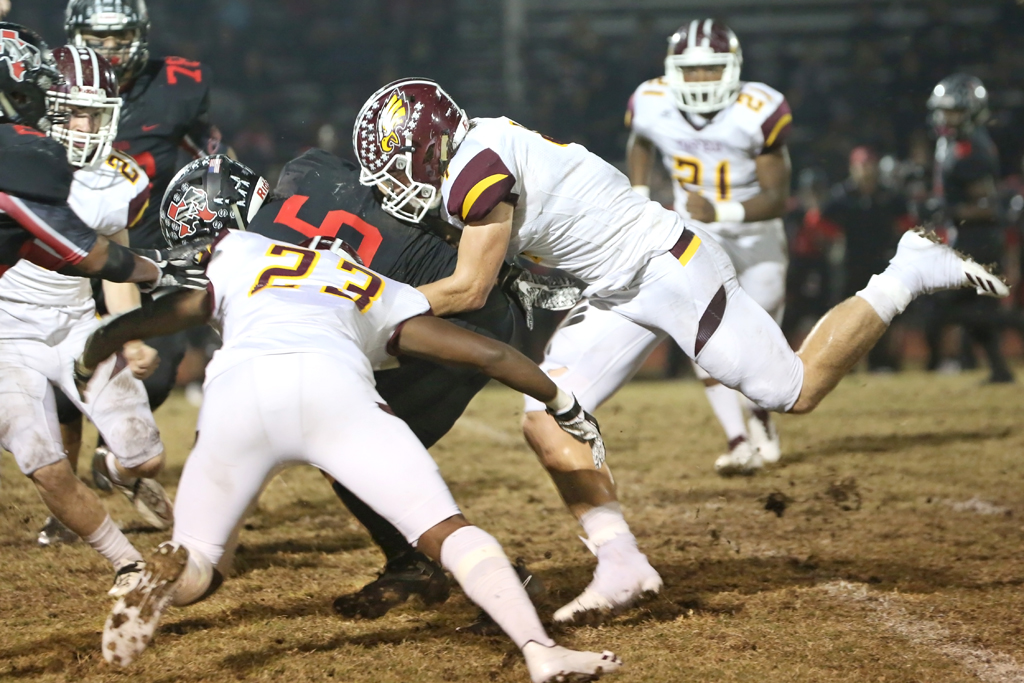 Mexia blocked a punt in the third quarter and but committed a holding penalty and dead ball foul and had a first and goal from the 36-yard line and missed a field goal.
Fairfield took over deep and the drive stalled, and the Eagles lined up in punt formation. The snap sailed over the punter's head and into the end zone for a safety and the Blackcats led 9-7 with 1:40 remaining.
Daveon Carter returned the free kick to the Eagle 48-yard line and Fairfield was flagged for two dead ball fouls for a total of 30 yards. The ball was marked at the Fairfield 18-yard line. After one play, the Eagles committed a horse collar tackle for half the distance and the first down at the seven-yard line. The Carter connection happened for a second time and the Blackcats took a 16-7 lead at the end of the third quarter.
Fairfield had a couple of chances to get down the field but lost two fumbles in the early moments of the fourth quarter.
Mexia added a 25-yard field goal with 3:44 remaining and Fairfield scored with 2:02 to go on a Rushin to Cody Ferguson 18-yard touchdown pass to cut the lead to 19-14.
Fairfield used their timeouts and were able to get the ball back with about a minute to go and no timeouts. Rushin was intercepted for the fourth time and the Blackcats sealed the win.
Fairfield will host Lorena on Friday night and Mexia will play at Robinson. All playoff teams are not in concrete with Robinson being the only one eliminated.
(Photos by Melissa Lee)