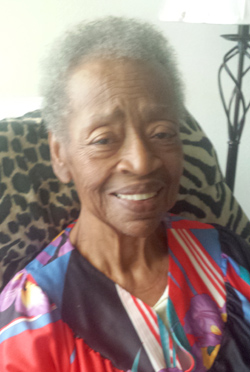 Mrs. Dorothy Nadene Hawkins Brown "Jackie", 84
April 10, 1933 – November 18, 2017
The Angelic Hosts came for Mrs. Dorothy Brown in the Fairfield Nursing and Rehab Center of Fairfield, Texas among loving family and devoted friends.
Memorial Services are planned for a later date following her instructions for the disposition of cremation.
Born in Crescent, Oklahoma, to John C. and Betty E. Norwood Hawkins, Dorothy graduated from Douglas High School.
She and Edward Lee Brown, a native of Teague, Texas were married and lived in Los Angeles, CA for a number of years.  Dorothy spent many years as a Nursing Home Caregiver and she and Edward Lee moved back to Teague more than 33 years ago.
Dorothy was the oldest of 13 children, had a twin sister, Doris who preceded her in death and was a sibling to a second set of twins.
Preceding Mrs. Brown in death are: her children, Jacqueline and Marvin Littleton; her parents; 3 brothers; and 2 sisters.
Surviving Mrs. Brown are:  Her husband, Edward Lee Brown, Sr., of Fairfield, Texas; Brothers: Bobby Joe Hawkins, Chester Lee Hawkins, and Larry Dean Hawkins; Sisters: Erma Lois Hawkins, LaJohanna Hawkins, Hester Marie Hawkins, and Betty Ann Hawkins; a blended family; nieces, nephews and other relatives and friends.
Moore's Angelic Funeral Home, 406 Monroe Street, Teague, Texas is serving The Dorothy Brown Family.
Visit them online at mooresangelicfuneralhome.com to sign the guestbook and light a candle.