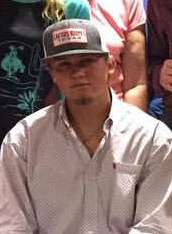 Dillion Cole Hornik, 20, of Fairfield, passed away Friday, November 3, 2017, in Pecos, Texas. Visitation will be from 6 to 8 p.m. Thursday, November 9, 2017 at Capps Memorial Chapel. Funeral services will be at 2:00 p.m. Friday, November 10, 2017 at The Cowboy Heritage Church on U.S. 84 between Fairfield and Teague with Mr. Derek Rogers officiating. Interment will follow at the Carlile Family Cemetery in Freestone County.
Dillion was born January 28, 1997 in Tahlequah, OK to parents Dale and Stormy Jones Hornik. He had been a Fairfield resident since 2012 moving from Ennis. He graduated from Fairfield High School in 2015. He was employed as a pipeliner. A grandfather, J.D. Lewis preceded him in death.
Left to cherish his memory is his mother, Stormy Hornik of Corsicana; his father, Dale Hornik of Chatfield; a sister, Harley Rae Hornik of Corsicana; grandparents, Bud and Janet Jones of Fairfield; Joyce Lewis of Corsicana; David and Barbara Hornik of Ennis; his girlfriend, Cherish Glover and her children, Jr. and J.J. Numerous aunts, uncles and friends.
To view an online obituary, send a personalized sympathy card, or leave the family a personal tribute, please visit our website at www.cappschapel.com