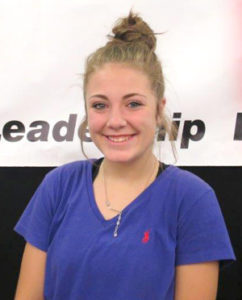 A Freestone County student has attended a once-in-a-lifetime leadership conference that has her well on the way to success. Haley Young represented Freestone County Farm Bureau at Texas Farm Bureau's 54th annual Youth Leadership Conference.
The Youth Leadership Conference is more than a conference or camp, Steve Eubanks, Freestone County Farm Bureau president, said, "It's a great opportunity for students to hone the skills needed to fulfill their dreams."
Students who attend the conference engage in goal-setting activities that help build character, confidence and leadership skills.
"Counselors and speakers at the Youth Leadership conference encourage and inspire students to network and examine their ideas, attributes and abilities," Eubanks said. "The students also learn about the free enterprise system that makes our country so great."
The conference is open to high school juniors and seniors who are of good character and in the top 30 percent of their class.
Those who attend the conference are eligible to enter Texas Farm Bureau's Free Enterprise Speech Contest for a chance at college scholarships.
The conference was held June 12-16 at Tarleton State University in Stephenville.