After thanking Fairfield Council members for their service, business owner Barry Capps (above) asked them each to tell him why they were asking  to raise the tax rate by  nearly 75 percent.
"Sixty cents is worse case scenario," stated Council member Kenny Hughes.  "We will work dilligently to keep that as low as possible."
"We can either cut services or raise taxes," statesd Council member Joe Lee Kirgan, Jr.  "It's frustrating."
Judy Moon, owner of Texas 99 KNES, offered the services of the radio station to make the public aware of the situation.
However, Moon suggested that the City hold off on raising the tax rate.  "We've had to tighten our belts," she said.  "I ask the City Council to do the same."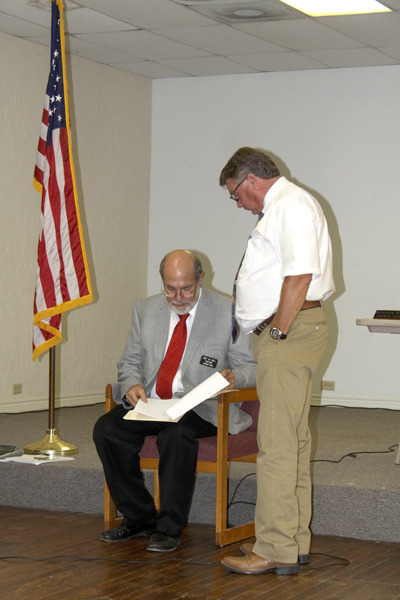 According to Mayor Roy Hill and City Administrator Jeff Looney (left), the tax rate for the City of Fairfield has remained unchanged for the past ten years.
Additionally, at .3488 per $100, Fairfield's tax rate is the lowest in the surrounding area, which are as follows:
–Corsicana        0.6272
–Mexia                0.8084
–Teague              0.7718
–Wortham         0.7493
–Palestine          0.6489
–Groesbeck        0.7698
–Buffalo              0.5006
–Fairfield            0.3488
"I understand the budget drawn up is pretty bare bones," conceded resident Jimmy Bonner.
"I feel there can be more done," added Bonner.  Go back and look again."
Speaking again, Capps relayed that he had 80 citizens sign a petition against the proposed 0.60000 tax rate.  He invited attendees to stop by Capps True Value Hardware & Ag Center to sign, as well.
A second Public Hearing on the Proposed Tax Rate is being helf Tuesday, August 29 at the Fairfield Community Center, beginning at 6:00 p.m.
The hearing will be followed by an additional Budget Workshop, to be held at Fairfield City Council Chambers.
The final budget and tax rate will be submitted for approval in September.
Copies of the City of Fairfield 2017-2018 Budget is available  at City Hall at 222 South Mount Street.
For more information, citizens are welcome to call their office of 903-389-2633.