It's beginning to look a lot like Christmas!
The City of Fairfield has announced the schedule for their annual Old Time Christmas Celebration.
Saturday, December 2nd will include a parade, visits with Santa, arts & crafts, Nativity, petting zoo, and Christmas tree lighting.
It all happens on the courthouse square in downtown Fairfield, Texas.  Children are invited to gather for the Reading of the Christmas Story of 3:00 p.m. as parade entries line up at the Elementary school.
Santa Claus, this year's Grand Marshall, will lead the Christmas parade around the square at 4:00 p.m.  This year's theme is "A Minion Christmas."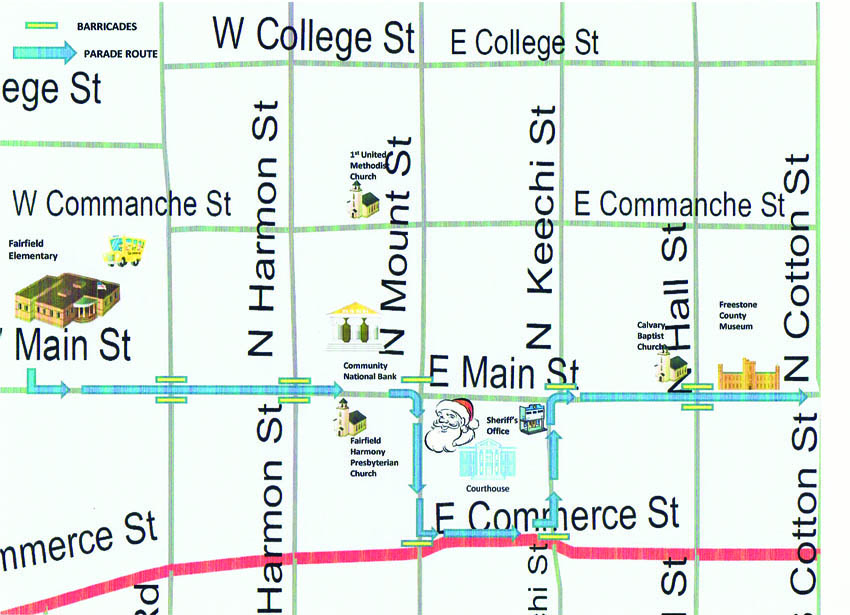 To enter this year's parade, contact the Fairfield Chamber of Commerce at 903-389-5792.
Santa will be around to visit with the children from 5:00 to 7:00 p.m.
The Fairfield Junior High Choir will perform and 5:00 p.m., followed by the Nativity Drama at 5:30 p.m.
The official tree lighting at 6:15 p.m. will mark the official beginning of Christmas in Fairfield, Texas with lots more holiday events in December.
More information about Fairfield Christmas activities may be found here or on your phone through the GO FAIRFIELD mobile app, the official mobile app of the City of Fairfield and the Fairfield Chamber of Commerce.
–Dec. 3rd – River of Life Nativity Drama & Petting Zoo
–Dec. 9th – Christmas in the Park at Fairfield Lake State Park
–Dec. 14th – Elf Adventure and Sip, Snack & Shop to spread Christmas cheer and Shop Local love
–Dec. 15th- 17th – Ice Skating on the Square
–Dec. 16th – Jingle All The Way with Santa, hat makers, face painting, rides and more
–Dec. 17th – River of Life Nativity Drama & Petting Zoo