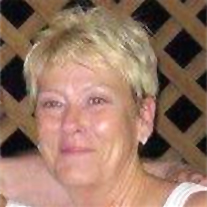 Cheryl Lynn Moore VanOrsdol, 67, of Streetman, Texas passed away in Waco, Texas early Wednesday morning, August 9, 2017.
Cheryl was born in Waco, Texas on September 30, 1949, to J.B. Moore, Jr. & Eddie Ruth Hancock Moore.
She graduated from University High School in 1967.
Cheryl married the love of her life, Max VanOrsdol, June 25, 1993.
She worked in the banking business as a loan officer until 1990 when she went to work for the oil industry. She worked for multiple oil and gas companies during her more than 25-year career as a contract right of way agent, covering 21 states.
Cheryl loved nature, flowers and birds. She had a numerous variety of wild birds that flocked to her well-tended bird feeders. She grew beautiful flowers and especially flowers that attracted butterflies.
She loved the outdoors and enjoyed God's beautiful creations. She remarked, while sitting outside enjoying God's beautiful scenery, "All of this and heaven, too!"
Cheryl is survived by her husband of 24 years, Max VanOrsdol of Streetman, TX; her children: Christopher Woodall, Hubbard, TX, and Jeremy Woodall, Waco, Texas; stepdaughters: Julie Byrne & husband Todd Byrne, Sarah Henry & husband Daniel Henry, Jessica Gregston & husband Timothy Gregston; stepson: Cody VanOrsdol; grandchildren: Lyric Woodall, Cyler Morton; step-grandchildren: Crystal Price, KayCee Ragland and husband Dub Ragland, Daniel Henry and Benjamin Adam Henry; step-great-grandchildren: Kayden VanOrsdol, David Price, Jr., Julian Price and Brooklyn Ragland; brother: Dr. Marvin J. Moore wife, Mildred of Bay City, TX and Sister Donna Gail Roskey, Georgetown, Florida; nephew: Shane Roskey, Waco, Texas; and niece: Dr. Kandace Moore O'Mallan and husband, Rev. Bill O'Mallan, Bay City, TX.
She is predeceased by her parents, J. B. & Eddie Ruth Moore.
Funeral services were held at Griffin-Roughton Funeral Home in Corsicana, TX on August 12, 2017
Officiating the funeral were Dr. Marvin Joe Moore, brother and Rev. Charles William (Bill) O'Mallan Jr., nephew.
Pallbearers will be Christopher Woodall, Jeremy Woodall, Shane Roskey, Cody VanOrsdol, Daniel Henry, Tim Gregston and Bill Hatley.
Burial was held Tuesday, August 15th at Dallas-Fort Worth National Cemetery, 2000 Mountain Creek Parkway, Dallas, Texas, 75211.
An online guest book is available at www.griffin-roughton.com
Arrangements were made by Griffin-Roughton Funeral Home.