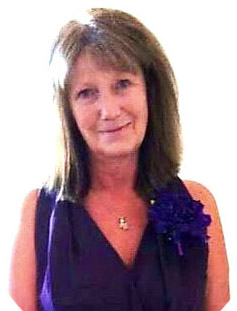 Brenda Kay Cannon, 65, of Streetman, passed away Monday, January 8, 2018 at her residence.
Memorial services were held Thursday, January 11, 2018 at Lakeside United Methodist Church with Dr. Ron Holloman and Dr. Thomas Q. Robbins officiating.
Mrs. Cannon was born June 19, 1952 in Bonham, Texas to parents Gordon and Margie Estelle Williams Holder.
She had been a Streetman area resident since 2006 having moved from Tool, Texas.
Mrs. Cannon was an ordained deacon in the Presbyterian Church.
Her many interests included birds (especially parrots), horses and whales.
She was an avid reader and excellent cook.
In addition to her parents Gordon and Margie Estelle Holder, she was preceded in death by her first husband, Thomas Denney.
Left to cherish her memory is her husband Ron of Streetman; four children, Bryan Denney and wife Monica of Austin, TX; Tracey Bradley and husband Josh of Garland, TX; Lauren Jones of Fairfield; Melissa Lewis and husband Scott of Richardson, TX; one brother, James Holder and wife Debra of Archer City, TX; twelve grandchildren, Brittani, Chase, Audra, Jacob, Grace, Victoria, Madison, DeLaney, Joshua, Caiden, Braven and Sophia and one great-granddaughter, Abby.
In lieu of flowers the family requests memorials to the International Myeloma Foundation. The website is http://www.myeloma.org
To view an online obituary, send a personalized sympathy card, or leave the family a personal tribute, please visit our website at www.cappschapel.com