Mexia used a big third quarter to get enough of a lead to hold off the Fairfield Eagles Friday night at a noisy Blackcat Gym.
Gary McQuirter scored on a couple of short baskets in the early moments and Chris Matthews moved into position for another and the Blackcats took a small lead.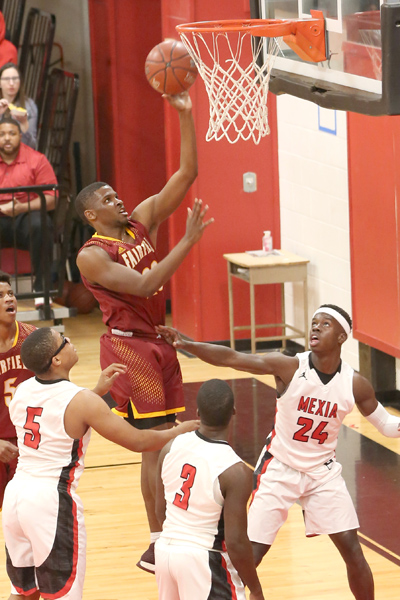 Kobe Freeman hit pair of free throws and Jaise Oliver and Jordan Gibson (left) scored some fast break points and they trailed by two at 9-7 at the end of the first period.
Kolbe Branch hit a three and the teams were off and running in a quick second period.
Gibson had a pair of scores, the second one with a foul shot and Kolby Adams and Oliver nailed threes to score 19 in the period.
Matthews scored a couple of times and Tyrod Griffin hit three at the buzzer and the teams were tied at the half 26-26.
Travion Carter and Jaden Proctor each hit three pointers to open a six-point lead in the first minute of the second half.
Fairfield tried to keep pace at the free throw line and only made two of four and only two of seven from the field.
J.B. Busby and Matthews took control at the glass and scored eight points in the final three minutes and Mexia opened a 42-35 lead after three.
Oliver put Fairfield back in the game with a three pointer and Kadarius Walker hit a shot and drew the foul to convert the three-point play.
Matthews led the fast break for a couple of baskets, the second on a slam dunk and the lead swelled to ten points. Branch and Oliver hit threes, but it was not enough for Fairfield to overtake the deficit and the Blackcats won 55-52.
Matthews scored 20 points to lead Mexia had 15 rebounds for Mexia and Oliver led the Eagles with 17 points and Adams scored 11.
Fairfield is a game behind Mexia in fifth place in the district standings. They have one more game than the Blackcats, who lost to Palestine on Friday.
Fairfield would need to win to force a tie for fourth place. Fairfield hosts Palestine and Madisonville next week.
(Photo by Melissa Lee)