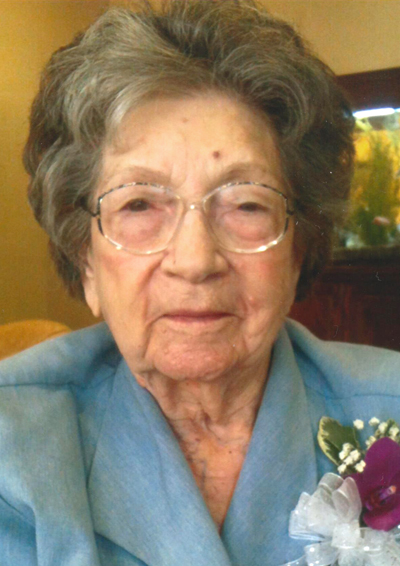 Annie Ruth Moore, 95 years, passed from this life to her eternal home, Thursday, October 12, 2017 after a short illness, having survived cancer.
Ruth was born in Freestone County to Simeon and Annie Chavers being the fifth of nine children.
She is pre-deceased by husband JD Moore; parents; brothers, James, Sim, and Edwin Chavers; sisters, Nell Garrett, Katherine Smith, and Martha Harrison.
Ruth is survived by three children; Gloria Davis Hobdy of Streetman, Texas; Michael Moore and wife Julie of Hempstead, Texas; Margaret Ann Wood and husband Allan of Houston, Texas;
Eight grandchildren: Miles Hobdy and wife Tracey of Richmond, Texas; Craig Hobdy and wife Kelly of Round Rock, Texas; Donna Cousins and husband Jason Lussier of Huntsville, Texas; Sharon Moore of Denton, Texas; James Moore of Brenham, Texas; Andrew, Michaela, and Madison Wood of Houston, Texas;
Nine great- grandchildren, Jeri Hobdy of Philadelphia, Pennsylvania; Brooks Coussons of Spring, Texas; Jonas Coussons of Huntsville, Texas; Jacqueline, Wendy, and Everett Hobdy of Richmond, Texas; Rebecca, Elizabeth and Catherine Hobdy of Round Rock, Texas;
Sisters: Lurline Tisdale of Streetman, Texas and Jimmie Weaver of Center, Texas; sister-in-law Juanita Chavers of Fairfield, Texas; numerous nieces, nephews, cousins and other family members; beloved friends and neighbors.
Ruth worked inside and outside her home in various positions over her lifetime. She was an accomplished seamstress throughout her life and has also hand pieced and quilted several beautiful quilts.
She was an avid domino and card player and enjoyed sharing her love of the games with her family and friends and especially with her grandchildren.
Ruth was a member of the Post Oak Girls Quartet during her teens, singing at different churches around Freestone County even having an appearance on a Dallas radio station; and an active and dedicated member of Cypress Family Fellowship.
In November 2012 the Annie Moore Chapel Body of Christ International Mission in Nimba County, Liberia West Africa was built and named in her honor. Ruth lived a life serving her Lord Jesus Christ and her family in a variety of ways. She will be missed by her many family members and friends alike.
Family and friends gathered during a visitation on Tuesday, October 17 at Waltrip Funeral Directors, of Houston, where funeral services were led by Reverend Scott Moyer, in the funeral home chapel on Wednesday, October 18, 2017.
Graveside services and interment followed at Woodlawn Garden of Memories, 1101 Antoine Drive, also in Houston.
In lieu of flowers, please donate to the Annie Moore Chapel by sending donations to Cypress Family Fellowship; 17330 W. Little York Road; Houston, Texas 77084.