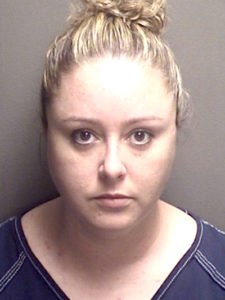 Twenty-nine year old Jamie Lee West, female, was booked into Freestone County Jail on Saturday evening, August 19, 2017 after she reportedly pointed a handgun at another subject during a verbal altercation.
The disturbance was called in to Freestone County Sheriff's Office 911 Dispatch and Sheriff's Deputies, DPS Officers, and a Mexia Police Officer responded to the scene on County Road 903, west of Teague, Texas.
Following an investigation that included witness observations and statements, a deceased dog, and a recovered handgun, it was learned that West subsequently shot the dog out of anger after pointing the gun at the other subject.
She has was placed under arrest and booked into Freestone County Jail with charges of Aggravated Assault with a Deadly Weapon and Cruelty to Non Livestock Animals.
West was released on a surety bond the following day.